"The day we are not talking about gender as a role in success," says Wendy Hills, "will be the day we've achieved true gender equality in the workplace."
Hills, the senior vice president and general counsel for Waddell & Reed Financial, echoes a hopeful sentiment widely shared by women and advocates for true gender-blindness in matters of executive-level attainment.
At this point, however, the statistics say that sentiment remains more hopeful than realistic. This year's Fortune 500 included just 24 women in the role of CEO—4.8 percent. To lesser degrees, that imbalance shows up at every rung on the advancement ladder: Women hold only 19.2 percent of board seats at those 500 corporations, 25.1 percent of senior- level managers and executives, 36.8 percent of first-level and mid-level managers.
Perhaps more troubling is the overall trend line in the U.S. work force, where the share of women has fallen to 56.7 percent—fully 12 percentage points lower than the rate for men—further restricting the pool of talent available for future advancement.
Viewed through the prism of those numbers, the achievements of our Women Executives-Kansas City shine even brighter. Hailing from such varied sectors as financial services, telecommunications, agribusiness, real estate, transportation and medical research, they have demonstrated that exceptional performance knows no gender restrictions.
Their stories and their examples reinforce the notion that the imbalance will tip. It's doing so already.
"Without a doubt, there are more opportunities for women," says Monica Massey, chief of staff for Dairy Farmers of America, the region's largest private company. "The opportunities are ours to seize. … I am able to be a woman who rolls up her sleeves, sits at the table with my male co-workers and contributes to the success of the organization—without a fight or a feeling that I have to work harder to be there. It might be time to give our employers and our male co-workers the credit they deserve for both recognizing the need and making room at the table for us."
---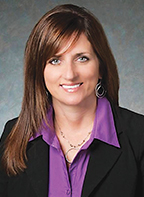 Lisa Ginter
Community America Credit Union
When Lisa Ginter talks about the attributes that have contributed to her own success—and that of CommunityAmerica Credit Union, where she's the chief executive officer—one word comes up over and over: Passion.
Her own passion for working at the region's largest credit union has marked her steady ascent through its ranks since she joined the Lenexa-based company in 1995. Before being named CEO early this year when 22-year veteran Dennis Pierce announced his retirement, Ginter had touched nearly every facet of the company's operations, sales, business operations, marketing, business development, information services, mortgage and electronic services.
Ginter's career there mirrors the rise of the credit union itself. When she came board, CommuntiyAmerica had five branches and roughly $585 million in assets. The final step in her path to the top came in March, when she took the reins, overseeing a sprawling enterprise with 28 branches and assets of $1.9 billion, an increase of more than threefold from when she started there.
She's a native of Independence who grew up in a household of 10 children, and is a graduate of the former St. Mary's High School there. Ginter earned her degree in business administration from Rockhurst University, then went to work in the accounting field where her duties included auditing of credit union finances, making it a snap to move from professional services to financial services.
Before joining Community-America, she served as chief financial officer for the School Employees Credit Union, and was president of Catholic Family Credit Union. She's also an influential advocate for other women in the credit-union ranks, both as co-founder of the Women's Association of Credit Union Leaders, which helps women in credit-union leadership roles network and develop skills, and Women2Women, a group of female credit-union executives whose institutions have at least $1 billion in assets.
---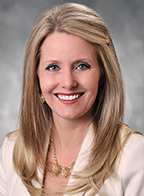 Wendy Hills
Waddell & Reed
On a Kansas farm, the workload has no respect for gender differences: You work, or you fail. Wendy Hills, senior vice president and general counsel for Waddell & Reed Financial, is 375 miles away from that farm in Colby, Kan., but a world away from it as a financial-services executive. But some things she learned as a girl are with her today, particularly the strong work ethic she learned from her father. "He never expected less of me because I was a girl," she says.
A self-admitted "Type A overachiever," Hills studied architecture at KU, then earned her law degree. A career in environmental law took a detour after a second-year corporate law class, which inspired an interest in securities law. After graduation, she worked in that field for a law firm in Wichita, then joined Waddell & Reed as the mutual fund compliance officer in 1998. Three years later, Hills was named associate general counsel and became general counsel and chief legal officer in 2014.
Her career choice affords Hills a different perspective on gender and advancement. "I identify the challenges from the perspective of the legal world, not necessarily the financial services world," she says. "When I think of what it takes to be successful, I think of leadership skills, critical thinking, integrity, commitment and unwavering availability to meet the client's needs." That means nearly 24/7 availability to those clients, particularly the ones that operate globally.
Applying her legal acumen in a financial-services setting set the stage for her success, but "while I was lucky, I believe I am the exception to the rule," she says. "I work for a company that provided me significant growth opportunities, as well as other women in my organization.
"For women attorneys," Hills says, "it continues to be very difficult to balance what it takes to be successful in the workplace with having a family. It is significantly easier to do if you rise quickly and, like Yahoo! CEO Melissa Mayer, can decide to build a nursery next to your office, but much harder to do on the long road up the ladder."
---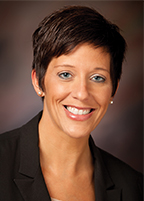 Monica Massey
Dairy Farmers of America
Monica Massey's rise to leadership in a business sector dominated by men was not without its tribulations. "When I began my career, there were many more challenges than there are today," says the chief of staff for the region's largest private company, Dairy Farmers of America. "At times, as a young mother especially, I would sometimes just go home and cry—overwhelmed with trying to have it all." It was unfair back then, having to balance personal responsibility with career when many of the men didn't face the same restrictions. Still is, at companies that allow it to continue. "But, my approach then, and now, was to show up at the office, work hard, do a good job, go home, show back up the next day and do it all over again."
Success came from learning to juggle, multitask and prioritize, to be disciplined, focused and confident. "I learned the value of delegating and developing those I manage so that they too can effectively contribute," Massey says.
A native of upstate New York, she came from a family that practiced traditional roles: Her father worked, her mother stayed home to tend to the house and raise the children. Massey would break that pattern after earning a journalism degree from State University of New York- Morrisville and a masters at Utica College of Syracuse University. The realities of journalism's pay scale hit home early—her two-week paycheck for up to 60 hours of work at a small newspaper topped out at $142.14, while she could make more than twice that as a waitress on Friday nights. As a result, she says, "my love of journalism began to wane and a move to corporate communications began to make sense."
The company's CEO, Rick Smith, asked her to come to Kansas City in 2006, and what she's brought to the organization speaks for itself—in gender-neutral terms.
"I am able to be a woman who rolls up her sleeves, sits at the table with my male coworkers and contributes to the success of the organization—without a fight or a feeling that I have to work harder to be there," Massey says. "It might be time to give our employers and our male coworkers the credit they deserve for both recognizing the need and making room at the table for us."
---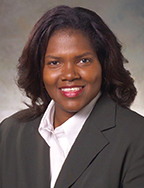 Madeline Romious
AT&T
Neither of her parents went to college, but both knew what a degree would mean for their two children. "They strongly insisted that my brother and I become college educated," says Madeline Romious, regional vice president for external affairs at AT&T. That push from home, combined with enthusiastic counselors in high school and an innate affinity for math and science, is how a girl from East St. Louis, Ill., would go on to earn a degree in electrical engineering.
Engineering is a field that struggles today to recruit qualified talent from the ranks of women. And yet it's hugely successful in that regard if you look at where that discipline was in 1988, when Romious earned her degree from Northwestern University. "I didn't know exactly where I wanted to go, but I knew I wanted to do engineering," she says. "The opportunity developed at Southwestern Bell, and I interviewed in St. Louis—I had never been to Kansas City, but I got the position as an engineer."
It was just a few years after the breakup of the Bell system, and it was in industry in tremendous flux. Romious laughs at the memory, but one of her first duties was working to eliminate the old party-line system. Long distance was still separate from local service, and of course, there was no wireless.
"I enjoyed breaking barriers," she says. "At that time, there were still very traditional roles for men and women. One thing I was excited about was developing mentors at the company who took a chance on me, believed in me, and allowed me to have non-traditional roles."
The transformation of the sector, Romious says, is one reason she's grateful for what an engineering background provided. "There's a shelf life on any tech, in any field," she says. "The value is being able to be analytical, be able to problem-solve, being able to understand how you get from A to Z. And that fits any situation. Those skill sets are invaluable in every capacity."
---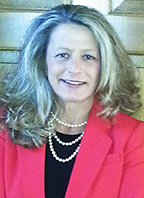 Lori Samazin
Sprint Corp.
"From a very early age," Lori Samazin says, "I became aware that I enjoy leading people." All the better, then, to see what real leadership looked like: She was raised in south Kansas City by a single mother who, Samazin says, "never let her lack of a college degree prevent her from being successful. She started as a secretary, but through hard work and determination, she was able to rise to a managerial position."
Samazin leveraged what she learned at home to become the first person in her family to earn a college degree, and doing it twice, picking up both a degree in business administration and her MBA from Rockhurst University.  Her career started in banking, with the former Wichita-based Bank IV (now part of Bank of America), then she joined Sprint Nextel, and she's now chief of staff to Sprint's chief network officer.
From that early fascination with leadership, she recalls, "as time went on, I began to study the characteristics that make great leaders. The skills that I kept coming back to, not only in the workplace but in life, were problem-solving, delegation, building strong relationships and acting with integrity in all that you do."
Her work with staff operations at a Fortune 100 company has given her professional—and personal—insights into enlightened management. "When our daughter was born, I was fortunate to have a director at Sprint who supported me working part-time," Samazin recalls. "The fact that I had two days during the week to be with our daughter made me highly focused and dedicated the three days I was in the office, and frankly, I spent lots of time on conference calls on my 'days off.' "
Finely toeing that line between work and home, she says, has allowed her to show her own children "the definition of success encompasses what happens at the office and what happens at home. At the end of the day, if our children grow up to be more successful than us – then we've been successful."
---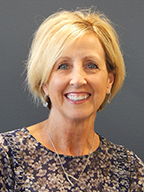 Ellen Todd
Curry Real Estate Co.
When Ellen Todd talks about learning commercial real estate from the ground up, she's speaking literally—during her youth, she'd pull weeds and pick up trash on properties managed by Curry Real Estate Services, the company her father, Ray Brock, bought in 1980. "All the Brock family daughters worked in the business at one time or another," says Todd, who succeeded her father as president of the company in 2000.
"Before dad bought the company, I helped around the Kendallwood development construction site; worked weekends and holidays at Antioch Shopping Center—developed as the first retail center north of the river—as a Santa's helper, in gift wrap, taking market surveys," she recalls. "Then as now, we did whatever it took to contribute to the best-in-class offering of all our properties."
Hers is a business sector that has seen significant increases in opportunities for women. "While the real estate industry, like most, was strongly male-dominated when I started my career, today there seems to be as many smart, successful women in this sector as men," she says. "Experience, professionalism, relationships, hard work, and a track record of success are not gender-specific criteria. There were some very talented, successful women in real estate that I admired and followed early in my career. Now, there is an incredibly strong presence of women in this sector. The sky is the limit."
Leading a successful company that is now a woman-owned business, she sees more of the same emerging, particularly for the entrepreneurially inclined. "Research has shown women outnumbering men as college graduates for some time." Todd says. "Generational change and culture have flung open doors to anyone willing to be innovative, strategic with their risk and persistent in achieving well-articulated goals."
Despite that, she's not sure the nation's businesses have reached a point where C-suite gender is irrelevant. "However, there is a push here to recruit more women onto corporate boards that will advance a more broad awareness of the value women bring to the table," Todd says.
---

Beth Wade
VML
Beth Wade had the self-awareness to recognize that business leadership was calling her, but she took a bit of a different route to answer the call. The Kansas City native and O'Hara High graduate went into business school at the University of Missouri, "but even though I knew I wanted to be in business, I didn't feel like I was drawing on my strengths in business administration." Something more creative was tugging at her, and she followed that line after earning her degree in business administration, and got into marketing. "I love to collaborate, and I like the creative environment, so marketing seemed like a great fit," she said. "I love the ability to grow a brand, and the creative side of business."
After a couple of years in restaurant-sector marketing she landed with Sprint, then showed up at VML in 2002 as account supervisor. Two years later she was an account director, and moved into senior leadership roles in organization development and client services, became chief client officer in 2013 and chief marketing officer, her current role, just a year later.
Being in a client-service business, to a degree, exacerbates some of the pressures experienced by women on the road to leadership roles, especially those who become parents. "Because we're here to serve," Wade says, "we have to be flexible in our schedules, in our commitments, in the hours we put in, and know that at some points—client service is not something that's an 8-to-5 job—clients may have deliverables that come up and ew have to be flexible as a partner to help them succeed."
What's changed in advertising and marketing, she says, is that 40 years ago, men didn't feel those pressures the way they, and the women, do today. "I work with so many men I respect and they are as conscientious about their own personal lives as women are," Wade says. "We all make personal sacrifices, but we all know how to pause and give back to ourselves when we need to."
---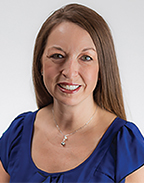 Rachel Hack Merlo
Google Fiber
She wasn't educated in information technology, but Rachel Hack Merlo had several things going for her when Google announced that Kansas City would be its first site for ultra-high-speed internet service, and advertised for a someone to manage that ambitious project.
Among those was an understanding of Kansas City itself, gleaned from working with VisitKC, the city's convention and tourism operation. Another was a later role as president of the Software and IT Association of Kansas, merged into KCnext in 2011. "That job was my entry into the tech world, and where I first heard about the opportunity with Google," Merlo recalls. "When I read the description, I knew it fit me perfectly." Indeed, it did: She was the first Googler hired in Kansas City. As tens of thousands of residents have been converted over to the company's fiber network, she says, "my role has evolved to focus on community impact, committing to finding ways for Google Fiber to make Kansas City a better place. I love doing this in my hometown."
Most of her youth was spent in the Northeast neighborhood of Kansas City, then the Northland for high school. She earned a degree in communications at Northeast Missouri State University, now Truman State, and came back to Kansas City, serving in various roles before Google came calling. The longest stint among those was seven years as executive director of the American Advertising Federation-Kansas City, working with the region's creative class. And if anyone could appreciate what gigabyte Internet service meant for that sector, Merlo could.
"I'm proud to say I have been a part of some of our community's efforts to make this industry more accessible for women," she says, adding: "I am fortunate to work for a company whose culture calls for us recognize and address the barriers that may be disproportionately impacting women's path to leadership, though we still have a long road ahead."
---