A new, more demanding clientele is driving senior living toward a resort-style feel. Clearly, this is NOT your father's retirement home.
They're here: The Golden Years of the Peter Pan Generation, the ones that vowed to never grow old—better known as the first-wave Baby Boomers. They're now entering its eighth decade of life, as the leading edge turns 71 this year.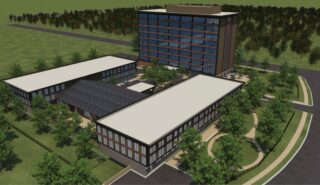 Creating Community | St. Anthony's—A Catholic Retirement Community near 67th and Troost, is the first major redevelopment along the Troost corridor in three decades. The $25 million project will add more than 200 residential units across a continuum of care to that part of south Kansas City.
---
Senior-living analysts say this new crop of retirees is looking first for aging-in-place options. That could mean holding onto an heirloom home, chucking the lawn/yard maintenance for some-thing smaller, or leaving the suburbs behind to take advantage of the access to cultural amenities that are generally more prevalent in the urban core.
As a group, the healthiest among them will cling to independent living models for another decade or so, and when they are ready for some type of assisted living, it will look fundamentally different from the types of senior-living options they saw their parents choose. New facilities, they say, will look more like hotels, and existing homes will be remodeled to cash in on demand for that kind of visual appeal and range of services. Amenities like on-site restaurants, fitness centers, bars and health-education classes and activities are all going to be popular going forward.
It is a new environment perfectly suited to the Chet Surmaczewiczes of the world. He manages the Santa Marta senior-living community in Olathe, but before signing on there, Surmaczewicz worked in the hospitality sector for such high-profile properties as the Intercontinental Kansas City, The Ritz-Carlton and Marriott hotels. He made the move to senior living eight years ago, when the ownership and board at Santa Marta envisioned a different sort of future. They hired someone with training from the Culinary Institute of America, an executive chef for 13 years, and a former manager for Disney in Orlando.
"It was really, really interesting," Surmaczewicz says. "When I first walked in—to me, the feel, the ambiance of a community is so important—and when I walked into dining room, it looked just as nice as the Ritz, and I started thinking about what I could do with menus, the first impression of the community, changing the curb appeal, adding music, the color outside, fountains, and really being able to impact the five senses."
What's happening, he says, is not just about making things look pretty—it's grounded in improving the quality of residents' lives. "Their outlook improves," he said. "There are a lot of important fac-tors, but socialization, we all crave that. We want to be in control, to feel special, and interact with individuals who have similar likes and behaviors."
The same philosophy underpins development at St. Anthony's—A Catholic Retirement Community, adjacent to Research Medical Center's Brookside campus. There, Mark Ledom and his son Matt are converting a nine-story office tower into senior living apartments, and adding additional structures to create a campus with 120 apartments for independent living, a new wing with 49 assisted-living apartments, and a separate wing with 54 memory-care units.
It's the first Missouri-side project affiliated with the Catholic diocese, mirroring a model that has been used on the Kansas side for years. What will make it work, he said, is that in an area bounded by State Line, Troost Avenue, Interstate 435 and the Country Club Plaza, 21 percent of the households are owned by residents 65 or older—about 25 percent higher than the national average.
The site and the timing made the $25 million project the right one, the elder Ledom said. "Obviously, the demographics are such that this component of care is one that's been intriguing me the past five years, watching my own parents age," he said. "I had been in retail and office development, but wanted to look at opportunities to design something special for those who want to age in place, and at the same time have an active lifestyle, but still be able to access all the amenities and assistance on an as-needed basis."
Like Santa Marta, the Ledoms' project is addressing a need that will grow at an incredible pace in the coming years.
"The average age of independent living residents is 75," Mark Ledom said. "Of those, 70 percent are widowed females. The average age for assisted living is 84." Because of the heavily Catholic makeup of the neighborhood, he said, that location offers the convenience of being close to children and grandchildren and nearby parishes where many residents have been members for decades. "It feels like you're not moving out of your neighborhood," he said.
The goal, he said, is to create a new sense of community to meet the needs of a different kind of retiree. The higher-end nature of those settings helps set a foundation for that.
"Lot of people want to stay home as long as they can, or keep a widowed parent home as long as they can," Ledom said, "but the statistics show that as we age, being part of a community—being social and active physically, emotionally and spiritually—they all add to quality of life as you age. And because people are living longer, they want that quality of life to be better.
"That's why this is growing: It's literally taking a vacation to a resort, much like you would with a church group or a neighborhood group."
Construction of the Troost project, the first of its kind along the corridor in three decades, is precursor of change for the contracting industry, as well, said Mike Johnson, president of Excel Constructors.
"It's similar to a real boom we saw in senior living 15 years ago," Johnson said. "That went dormant from the latter part of early 2000 and into this decade. But here in the past three years, it has completely boomed. Probably 50 percent of our business right now is senior living, over $50 million in construction last year, and there's more coming."
The biggest trend that differentiates senior-living construction now from previous years, Johnson said, was, "we've been building a lot of assisted-living and memory-care facilities. In the last year, for whatever reason, it has focused more on skilled nursing," for which demand continues to increase.
But if Baby Boomers, often hailed as the healthiest generation in history to this point, are going to live longer and more actively, is the boom coming too soon?
"I don't think so," Johnson says. "A lot of our clients are pursuing what you call a continuum of care model, developing facilities that are more like an apartment or duplex for people as young as their 50s. They're just like living at home, and when you get to the point where you can't take care of yourself comfortably, you can move from independent living to the memory care or skilled-nursing. We've worked on several projects that draw on that continuum of care model."
One other aspect that's changing, he said, is that while the major designs aren't radically different, "we have noticed an emphasis on comfort. A lot of the time, we think of senior living and think of a nursing home as something pretty plain. The clients we're working for now are all about the whole experience, healthy living, and higher-end finishes."
You can expect more of the same in the coming years, Surmaczewicz said.
"Absolutely," he said. "Eight years ago, we started implementing these kinds of amenities; now, it's the norm, and if somebody isn't there, they're really behind. And now, it's 'what do we do next? How do we improve on what we've already improved?"
That mindset in senior living will become more prevalent, he said, because the Baby Boomers have a history of demanding quality. "When you think about Baby Boomers, the public has been programmed through all of the preferred programs. The preference and the differentiation in brands and product have just become so prevalent that it will overflow, or will become the standards of the way we manage continuing care residential centers, because that's what the expectation will be."