Megatrends in commerce and demographics are putting a greater focus on infusing new life into Kansas City's core.
For more than half a century following World War II, real estate development was largely organized around the belief that expanding suburbs would, almost without fail, create demand for retail operations and workplaces. "Retail follows rooftops," though, isn't an expression you hear quite as much in development circles these days.
There are a lot of reasons for that, few of them unique to the Kansas City regional marketplace. For one, despite the relatively recent, fracking-induced decline in gas prices, the nearest stretches of available land were becoming increasingly distant from the commercial core of this region. The American Dream shared by Baby Boomers and their parents has been modified for younger generations that are far fewer in number (Gen Xers) and far different in their choices of residences (Millennials).
And on an even bigger scale, the concept of retail is getting a makeover, thanks to increasingly popular on-line shopping, a trend that began to signal a death knell for many existing big-box retail locations, and one that scrapped plans for many more like them.
Development, in a very real sense, is becoming re-development.
The Kansas City area has seen billions of public and private dollars invested in rebuilding the Downtown area and creating a residential base there. Some large tracts in suburbia, such as the site of the iconic but defunct Metcalf South shopping mall or the Brookridge golf course, are getting new lives as large-scale, multi-use developments. Ditto for the old Metro North mall site in the Northland. The once-forsaken warehouse districts of the urban core, from the River Market to the Crossroads to the West Bottoms, are taking on new life as badly-needed apartment units.
The rooftops? Well, they're starting to pop up again. We're on a four-year uptick there. But the chances are, the heady residential construction of 2006 is gone forever, and the types of commercial development that followed it, too, is probably gone with the development winds.
What's left in its place, though, is a development scene with a new type of vibrancy, one that will continue to change the face of the way we live, work and play, for decades to come. The sector overall may not be firing on all cylinders, but it's getting there, in part because of the fundamentals that make this market attractive.
"Our work force and work ethic continue to be our greatest strengths, followed by our cost of living," says Pete Heaven, a development attorney with Lathrop & Gage law firm. "Our weakness is a reluctance to market those strengths nationally and internationally." But the word is definitely getting out.
What follows is a tour of KC's real estate market from office to residential.
---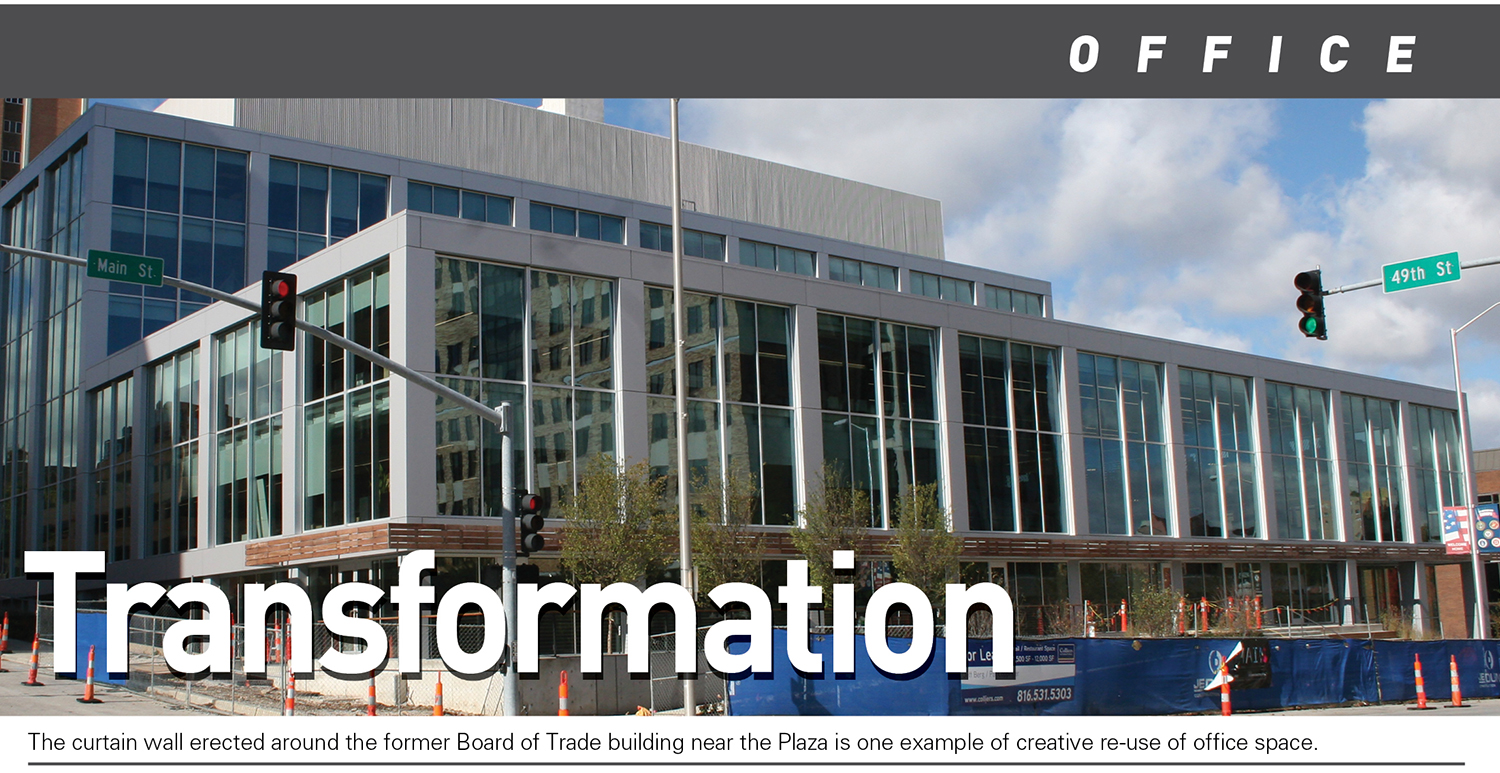 New space is coming on the market, but the rehab push is strong
 The market for office space in the Kansas City region is heading into unchartered waters.
Many factors contribute to the currents changing that market today, a market that has seen overall vacancy rates steadily falling over the past three years. And while some fairly large-scale construction promises to sharply increase the amount of Class A space, nothing will tilt the balance of this market quite like what's happening in south Kansas City.
The new Cerner Trails Campus on the former Bannister Mall site has already seen work start on three buildings that will account for nearly 900,000 square feet of new space. That's just the first step in Cerner Corp.'s $4.45 billion plan to add 4.3 million square feet at that site over the next decade, brining in 16,000 new workers at what is already the region's largest private-sector employer.
Gov. Jay Nixon correctly dubbed it the largest economic-development project in the state's history, and it will easily surpass the 3.9-million-square-foot Sprint Campus in Overland Park as the region's largest office headquarters complex.
Speaking of Sprint, the company that Cerner overtook for the top-employer honors, recent announcement that thousands of pending layoffs would include a significant number at the headquarters promises to further rebalance the office-market scales. Since the company's downsizing began in earnest after 2010, huge swaths of Class A space have been added to the market on the Sprint campus, and it appears that much more office space will be on the way when the layoff numbers are announced in January.
But there's a lot more going on than just the jousting at two of Kansas City's biggest companies:
• Work continues on the 311,000-square-foot expansion of the Burns & McDonnell headquarters at Wornall and Bannister roads, a project that sets the stage for thousands of new hires.
• The $350 million CityPlace mixed-use project, at College Boulevard and U.S. 69 in Overland Park, will infuse 600,000 square feet of Class A space into the Johnson County market.
• The planned high-rise known as 46 Penn Centre will add roughly 188,500 feet of Class A space, plus about 6,500 of retail space to the Country Club Plaza.
• The Plaza area will also see 165,000 square feet of office reconfigured, if not completely new to the market, with the renovation of the former Kansas City Board of Trade building, where architectural firm Populous will set up its new 65,000-square-foot headquarters.
• And a new 150,000-square-foot office tower is in the works at College Boulevard and Nall Avenue, near the Teva Pharmaceuticals headquarters.
Those aren't insignificant projects, but in a market of more than 53 million square feet stretching from the Northland to Olathe, there's room for more, says Pete Heaven, who specializes in real estate development for the Lathrop & Gage law firm.
"It is critical that we develop more Class A office space in the Metro—the market has demonstrated repeatedly that if you build it, they will come—the I-435 south loop is poised to become a regional office/headquarters corridor," Heaven said. "The challenge is getting the word out to national investors."
According to the brokerage firm CBRE, Kansas City's office market has seen overall vacancy rates in the region fall from 18.6 percent to 14.9 percent in the past three years, and the the Class A office vacancy for the third quarter of 2015 stood at 13.8 percent for the overall metro area. In the suburban Class A market, it was just 11.5 percent.
Predictably enough, that has pushed rental rates back up. Average lease rates market-wide have moved up to $17.49 per square foot, according to CBRE, and $21.20 for Class A.
"There hasn't been much, if any, multitenant office space built, really, in the last seven or eight years," said Dave Harrison of VanTrust Real Estate. "Absent a few that have been done in Johnson County that had multitenant, there hadn't been much of any spec space done."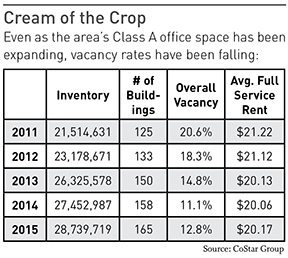 What's happened, Harrison said, is that the existing-buildings inventory has seen its bigger spaces diminishing. "There are no great options at 50,000 square feet or above," he said. "Consequently, we're seeing office rates starting to climb."
Which may not thrill executives looking to expand into newer or larger digs, but it has its advantages across the market. "I think we're kind of healthy," Harrison said. "The existing product, if it isn't obsolete, or functionally obsolete, I think we'll continue to see a tightening of product that works for users. Are we ready to put up spec buildings? I don't think so, but in the near future, I see a few coming up."
Jim Tiehen, of Tiehen Real Estate in Leawood, noted the interconnectivity of various development types, and when some are booming, as with multifamily housing and industrial/warehouse, there's a spillover effect.
"From what I can see, everything is up: office, retail, residential," Tiehen said. "But people do not have much imagination. It's all about convenience and people want convenience and mobility, and they want things when they walk into it, ready to go."
Harrison cited the Board of Trade project, lead by Mariner Real Estate Management, and various redevelopments within the inner suburbs, by Karbank Real Estate Co., as good examples of renovation that will upgrade space on the market.
"One project or property type of note that has been addressed really well is the reworking of the buildings at State Line and Shawnee Mission Parkway," he said. "He's doing the same on 75th, west of State Line. That's probably a trend that we'll continue to see."
David Frantze, of Stinson Leonard Street, noted that "office development is almost completely user-driven, with developers responding to the needs of companies seeking to meet 21st century space requirements. "Space demands per employee are shrinking, with much emphasis on technology and collaborative space."
The other significant change in the Kansas City market isn't grounded strictly in square feet, but who's occupying them, and on which side of the state line. The biggest shifts in recent years came with AMC Theatres leaving Downtown for Leawood's Park Place, Freightquote's move from Lenexa to new headquarters off I-435 State Line, and more recently, WireCo WorldGroup's move from the Northland to 75th Street in Prairie Vil-lage and Dairy Farmers of America's plans to build a new 100,000 square foot headquarters in Wyandotte County's Village west.
The latter two moves, incidentally, essentially hollowed out the tenancy at 10220 N.W. Ambassador Drive—remarkably, KC's largest private company (DFA) and another of its 30 largest employers (No. 29 WireCo) had been leasing space in the same building. 
---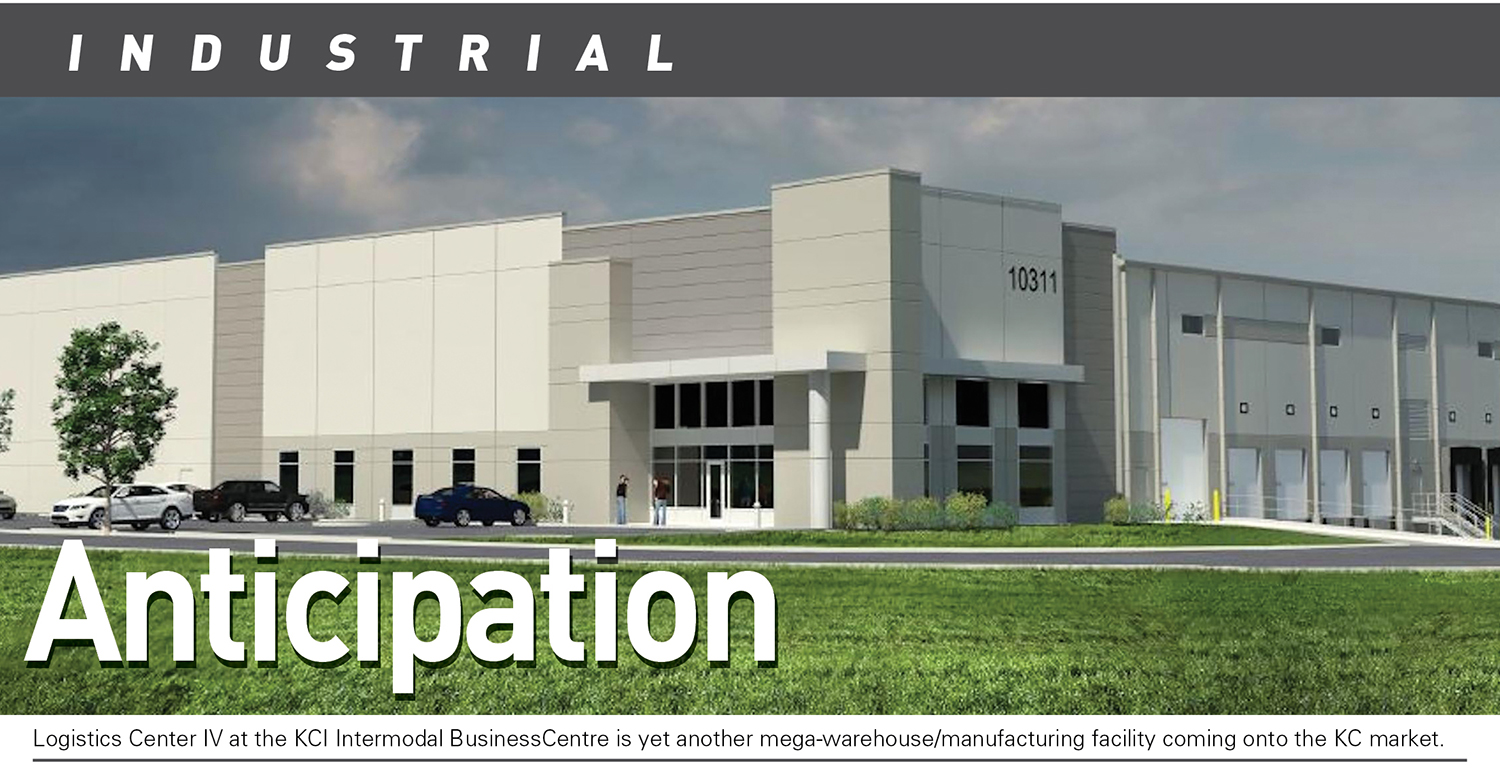 Market absorbs manufacturing demand, looks to distribution
Somewhere in the vast industrial and warehouse spaces in the Kansas City area, the laws of square footage supply and demand expressed as vacancy rates have been filed away, like the Ark of the Covenant.
Since 2011, market-wide square footage has surged by 23.8 percent, from just over 200 million square feet to slightly more than 248 million—and the vacancy rate has actually fallen—by 2 full percentage points, from 7.7 percent to 5.7 percent.
It's a mark of how far this region has come—and how fast—in establishing its bona fides as a center for logistics—warehousing, shipping, distribution—and for industrial might, particularly with the Ford and GM assembly plant upgrades and the movement of auto suppliers into the market to feed those lines.
Speculative development has spawned a series of facilities that run into the high six figures—and approaching seven—for shipping and distribution facilities and annual absorption on a square-footage basis has climbed to a record pace.
All of that appears to be the start of something very big.
"We feel like Kansas City is really just coming into its own," said David Hinchman, an industrial brokerage specialist with CBRE. "It's something we've been predicting, forecasting and recommending for years and years."
What's changed, he said, is that the market is now positioned before the right developers, a trend that tracks with the opening of the major intermodal facilities by BNSF with its Kansas City Logistics Park in southwest Johnson County, the Centerpoint KCS Intermodal Center in south Kansas City, and the KCI BusinessCentre at the airport.
"The recession slowed everybody down, but since the recovery, it's been steady in terms of development," Hinchman said. "In terms of demand, there have been pretty even flows and construction to meet those demands or anticipate them."
Anticipation, in fact, is behind a number of new construction projects in the region, such as NorthPoint Development's Inland Port XIV, an 822,104 square- foot behemoth at Logistics Park, and largest spec buiding in the region's history. Or Hunt Midwest's plans to expand on 126 acres of its surface business park, including buildings that would range from 200,000 square feet to 875,000 square feet. Or the 496,150-square-foot building where ground was broken at the Lone Elm Logistics Center near Olathe. Or Logistics Centre IV, a 432,600-square-foot building at KCI Intermodal BusinessCentre. You get the idea.
While the heavier side of industrial has driven growth in much of the market, the prospects for new facilities serving retail distribution are fraught with potential, thanks to the continuing expansion of on-line shopping and the need for on-line retailers to find the lowest-cost options for order fulfillment and delivery.
"There are major trends changing the way we handle merchandize, and eCommerce is a huge, growing sector of the economy," said Whitney Kerr Jr. of DTZ. "What's worked well for us is that eCommerce companies have recognized that Kansas City is probably the very best location for them to operate. They can reach two-thirds to three-fourths of the country within two days, and the entire country within three. For most of the product shipped today, it doesn't have to be there overnight. With 2-day delivery out of KC, they can get virtually anywhere in the country."
Besides location, other growth factors include access to interstate highways (four, traversing the country from east to west and from the Gulf of Mexico to the Great Lakes), and the railroads, which make the city the nation's leader in rail tonnage, and second only to Chicago in the number of railcars that pass through each year. "It's a very powerful combination," Kerr said.
inchman summed that market up succinctly when he said, "we feel like it's moving along and going to continue at a good pace for a good period of time."
---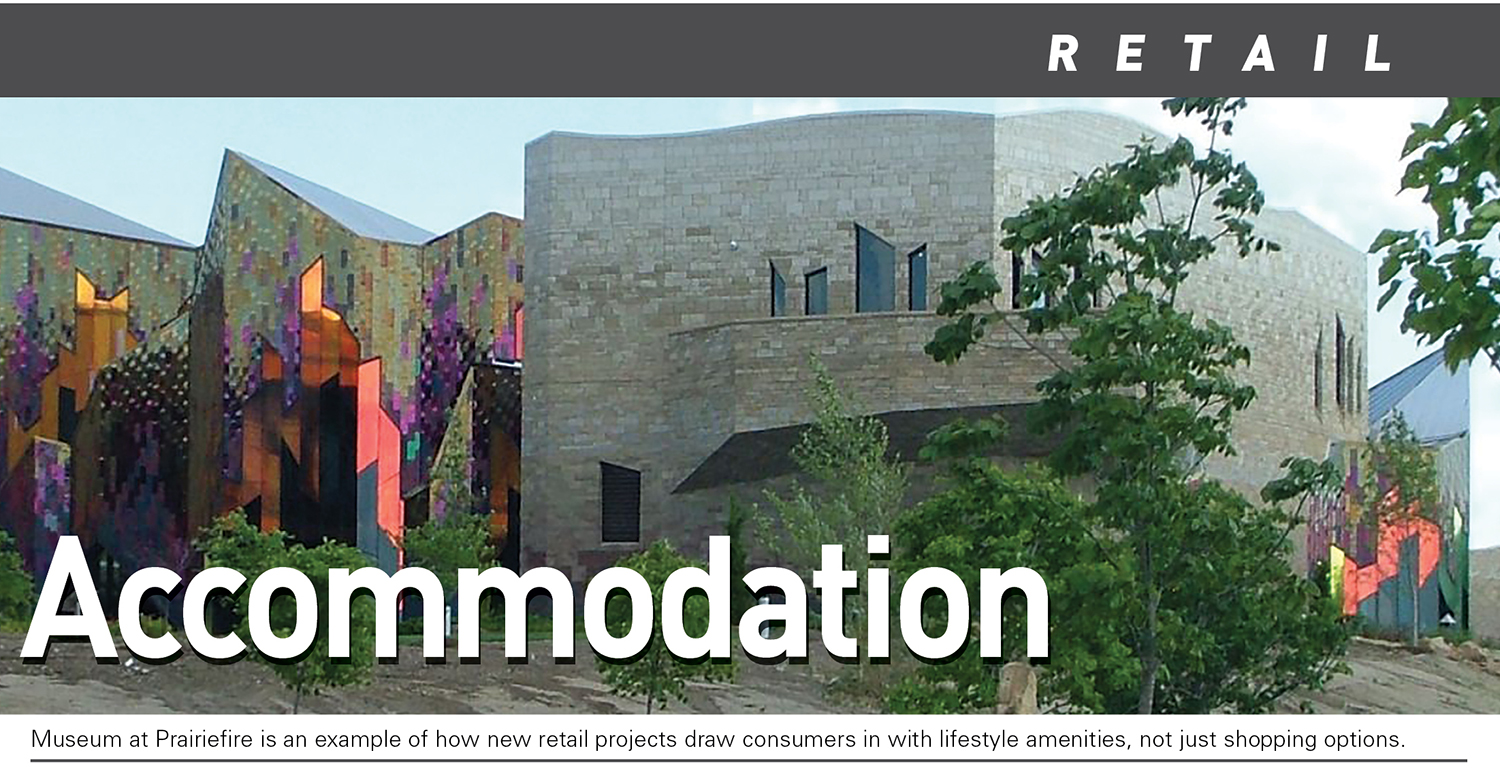 Changes in retail sector are being driven by consumer choices
Retail, says Owen Buckley of Lane4 Property Group, is changing.
"Stores are becoming smaller because technology is allowing retailers to become much more efficient," he says. "People are also finding ways to simplify their lives by buying products online."
All of that presents both a challenge and an opportunity for retailers to capture the consumer, Buckley says, and it makes multichannel marketing more important than ever. It's also giving retailers pause when it comes to their brick and mortar strategy. "Meanwhile," he says, "shopping center developers have to rethink design and the future of their properties.  How will people shop 20 years from now?"
But Buckley speaks without fear of contradiction when he also says that, "in many ways retail development is not changing. People still want convenience, perhaps more now than ever. Their personal time with family and friends is premium and they want convenient parking and easy in and out."
The well-publicized struggles of big-box retailers, and the challenges facing older strip malls that have outlived their appeal, mean that new types of retail outlets are on the horizon—and, in a few cases, they're already here. But while the market has recovered from its recessionary dip, and vacancy rates are back below 8 percent, retail hasn't enjoyed the kinds of growth that other development sectors have seen.
Within the past year, CBRE figures showed, the peak for new retail under construction came in the third quarter of 2014, at roughly 600,000 square feet. That steadily declined to less than 500,000, then less than 400,000 square feet in the following two quarters, before dipping to less than 100,000 square feet in the second quarter of 2015. For most of that stretch, Johnson County retail construction accounted for the lion's share of activity.
Thanks to new projects in North Kansas City, the market-wide figure rebounded in the third quarter of 2015, more than doubling as it neared 200,000 square feet. All told, those five quarters yielded nearly 1.8 million square feet of new construction, bigger than the footprint of an Oak Park Mall.
Those numbers will get a boost with construction expected to begin this fall on the second phase of Prairiefire, developer Fred Merrill's upscale mixed-use project at 135th and Nall in Overland Park. The first phase opened in 2014 with first-to-market retailers like Rock 'n' Brews, Cinetopia, REI and Pinstripes. When the second, western phase is completed, the entire project will cover 60 acres, with 350,000 square feet of retail, a little less than half that much in office space, and 700 residential units—most of them multifamily—and the 75-room boutique hotel, Shade.
And though Lane4, working in partnership with The Kroenke Group, felt compelled in the face of public opposition to withdraw its proposal for a redevelopment of the Metcalf South mall site, it's almost a certainty that some combination of large and small retail in a mixed-use format is in store for the site of the metro area's first enclosed shopping mall.
To the north, a partnership called Metro North Crossing has secured TIF Commission endorsement for a $187.5 million redevelopment of Metro North Mall. The group plans to demolish most of the 1.1 million-square-foot mall as currently configured, leaving about 222,000 square feet, but putting up 912,500 square feet of new structures, potentially including the Northland's first Costco.
"The recent openings of IKEA and Scheels demonstrate that Kansas City is attractive to destination retailers," said Pete Heaven, of Lathrop & Gage. "The challenge is creating and sustaining an economic environment that welcomes new retail—that starts with incentives, and our cities need to be more consistent and uniform in their incentive policies to eliminate market uncertainty. The halo effect of new retail benefits the entire metro, not just the host city."
---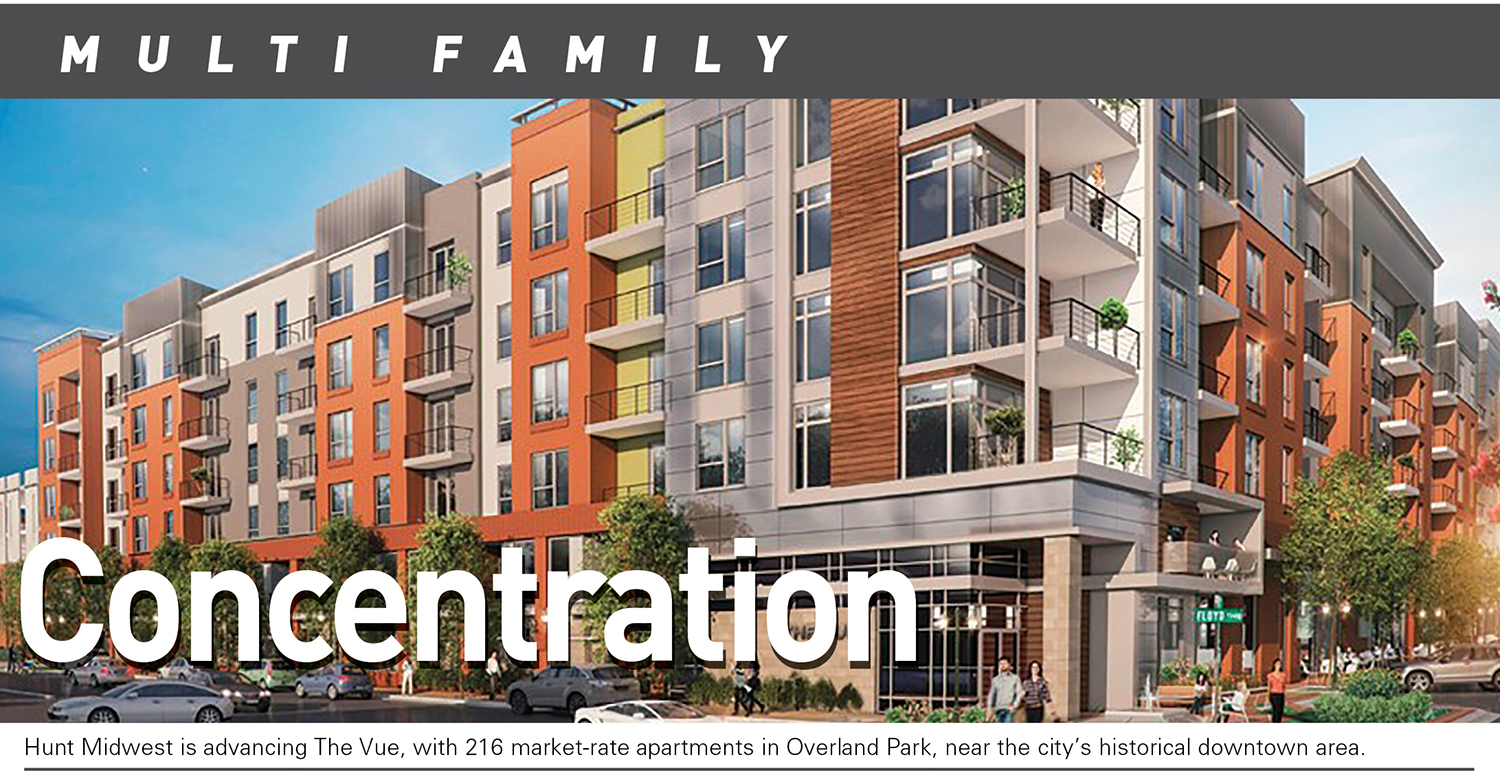 Luxury apartments, up to 300 at a time, cascade into the market
After bottoming out at a whopping 253 units—market-wide—in 2010, construction of apartments, particularly market-rate and luxury offerings, has exploded across the Kansas City region. For five consecutive years, permit figures show, the market accommodated increasing activity, leading many in that sector to ask: Where's the peak?
"This is the strongest multifamily market I've seen almost since I've been in business," says Jim Tiehen, owner of The Tiehen Group in Leawood. And the numbers bear that out: With the final quarter of the year still to come, 2015 is on pace to sneak past the high-water mark for multifamily construction, 2006, when 3,300 permits were issued in the region.
"I think it's close to being saturated, but every time they come up with a new project—and I keep shaking my head—but every time they bring one out, it's 50 percent leased before it's even out of the ground."
What's happening regionally is a reflection of what's happening nationally, say executives linked to the multifamily sector. Large number of young adults, some discouraged by the experiences of their parents as home valuations plunged after 2007, have yet to take the plunge into ownership themselves. At the other end of the career spectrum, the estimated 10,000 Baby Boomers who reach retirement age every day are fueling a downsizing movement by empty-nesters. And both sets are looking for options with easy acsess to the kinds of cultural amenities that abound in the centers of metropolitan areas—museums, restaurants, theaters and other attractions. That makes the core a hot set of properties.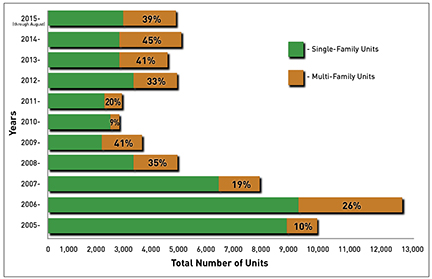 "Multi-family residential development is very strong right now, with new product under construction and development on both sides of the state line, and in both urban and suburban markets," said David Frantze of Stinson Leonard Street. "The level of multi-family residential under development in the central portion of Kansas City, Missouri—Downtown to the Plaza—is as strong as it has been in the last 20 years."
On the Downtown side of that, one obvious example towers 25 stories over Downtown, the new One Light project in the Power & Light District. With its 315 units nearly leased, the Cordish Companies is moving ahead with a 24-story companion building, with 300 units. Cordish plans to replicate the same development formula, triggering development of Three Light and Four Light in succession as leasing goals are met with each building.
Those projects, Cordish said, represent the first new, market-rate high-rise buildings in Downtown's history. But there's plenty of activity going on with construction of more traditional and stick-built structures nearby, including the $60 million Second and Delaware project, which will feature an advanced "green" design for its 276 units along the Missouri River north of Downtown.
Also bolstering the greater Downtown stock are projects like Founders at Union Hill, where work continues on the two newest additions to a project that has added nearly 200 units to the mix. Not far to the south, 51 Main is now open, introducing 176 more luxury units to the Plaza area.
Inner suburbs with older stock are seeing projects like the sprawling Lenexa City Center, which will feature 850 luxury apartments units upon completion. In neighboring Overland Park, EPC Real Estate Group's Avenue 80, near the city's downtown area, is adding 230 luxury apartments. The firm is also behind a 209-unit project in the Northland, Savannah West, which broke ground last summer.
"People are very bullish on the apartments right now," Tiehen said. "There are tons of investors chasing deals. You can get interest rates at historic lows, so money is readily available, Where else can you put your money and get 5, 6 or 7 percent return? If I can find apartments to sell, we will have a dozen people chasing the deal."
---
Ownership trends dramatically remake single-family market
Earlier this fall, the National Association of Home Builders reported that builder confidence had reached the highest level since October 2005.
Ponder that date for a moment, because that confidence metric has been a decade in the making. In the Kansas City region, if home builders had any concerns of what lay ahead back in 2005, they weren't showing it: They closed out 2006 with 9,384 single-family permits issued.
And then it hit: Construction fell by nearly a third in 2007, by half again in 2008, and nearly a third from that in 2009, reaching the decadal bottom of 2,471 new homes in the region. The era introduced some profound innovation at some home-building companies, sealed the fates of countless others, and saw thousands of trades employees cast out of work.
From there, things have rebounded nicely, and well before the end of the year, 2015 has generated a new post-recessionary peak, with 3,450 single-family permits issued, topping the 3,299 issued in 2012. Those are the only two years since 2006 to break the 3,000 threshold.
So yes, confidence is back. But it's back in a sector that was severely chastened for its excess of zeal a decade ago.
"This increasing confidence reminds us that owning a home is a good investment in the long run.  It's a good time to buy and a good time to sell with interest rates still low, and home values and incomes picking up," Sara Corless, executive vice president of the Home Builders Association of Kansas City, said recently.
As with most things developmental, space matters. And thanks to its abundance of open room in the Northland, Kansas City, Mo., has been the clear leader in new-home construction, with 718 permits issued through the third quarter of 2015, up more than 28 percent over the same period a year earlier. That's more than the Kansas-suburban giants of Olathe and Overland Park combined—Olathe logged 405 permits through September, while Overland Park had 299.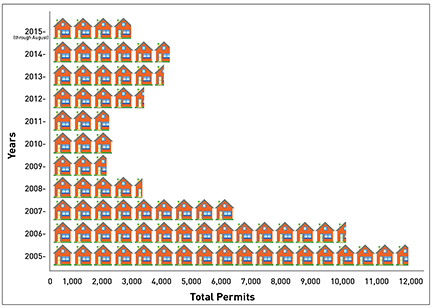 Rounding out the top five were Lee's Summit, with 243, and Lenexa, with 170. Interestingly enough, but perhaps still at the stage of statistical aberration, the Missouri side of the metropolitan area has opened up a 55-45 percentage lead in issuance of permits, which historically have been almost evenly divided with Kansas.
The more significant statistic that comes from the association's historic monthly permitting reports is the shift in the single-family share of the overall residential market, figures that show just how profoundly consumer tastes have changed for apartment living, rather than owning their homes.
In 2005, single-family units accounted for nearly 90 percent of new permits issued, a figure that quickly plunged: to 74 percent in 2006, then 65 percent in 2008 and 59 percent in 2009. After a one-year pause where single-family surged back to 90 percent dominance, the descent resumed, to less than 80 percent in 2011, then 59 percent mark in 2013, where it has remained since. And 2015 shows no signs of abatement; through three quarters, only 55 percent of the permits issued in this region have been for single-family units.
That, development professionals say, may be a temporary dam that could break in the coming years. Millennials may have shunned home ownership in numbers sharply contrasting with Baby Boomers.
"You would think they would want to get into home ownership, but they're not," said Jim Tiehen of The Tiehen Group. "There are barriers, even though money is available. They still have student loans, home prices are rising. But what they really like is the freedom of not owning a home. They're a mobile generation; if they have to switch jobs, they don't want to be tied to a house, they're putting off marriage, they're not having kids."
But human nature will eventually prevail, and as the older edge of that demographic hits its mid-30s, marriage, family—and eventually, home ownership—will beckon.
---