As COVID-19 began its deadly march across America in the late winter of 2020, a palpable sense of dread drifted throughout the region's health-care system. For providers, it was driven by the sense of the unknown: How lethal could it be? How contagious? What threats might it pose to staff, as well as other patients?
Nearly a year and a half later, driven by mutated version that is staging yet another surge nationwide—and especially in Missouri—those same institutions are guided by experience, confidence and a quiet resolve that says: "We've got this."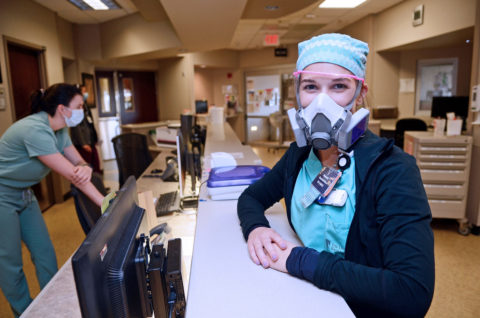 Executives from medical centers and health-care systems accounting for more than half of the available beds in the Kansas City market say they are now well-positioned for the next battle in what may be shaping up as a long-term war. The lessons learned from managing their way through the crisis phase of 2020, especially with the highest concentration of cases in the late fall, will pay off for the health and well-being of patients, staff and their entire organizations.
"One of the things we've learned is that our focus and agility has allowed us to think about things differently, to be able to move quickly, adjust and adapt to different things in different ways," says Sam Huenergardt, chief executive for AdventHealth Shawnee Mission. "It really told me that health care can move much faster than in the past. Our value around being nimble has increased, and the flexibility of our team to do that has been highlighted. That's a key value for us moving forward."
He and his peers at other institutions are drawing on those lessons as COVID makes another notable, though presently less lethal, surge. By mid-July, the Kansas City region had recorded more than 177,000 cases since the outbreak started in March 2020, and had 275 patients hospitalized across the region, accounting for 5.85 percent of beds among the hospitals reporting at that point.
Those numbers were up significantly from June, a point where cases, hospitalizations and deaths had dropped by 90-95 percent from last fall's peak numbers. The region hit post-peak low of 139 hospitalizations occupying 2.64 percent of reported beds on May 31. That was a far cry from Dec. 12, when 919 patients occupied 17.4 percent of total beds and had the health-care system under its greatest stress.
Executives are hopeful that, with 42.5 percent of the area's residents fully vaccinated, any comeback by the virus will be considerably easier to manage. And even in the rarer instances of vaccinated people developing symptoms, the cases tend to be much more manageable than for those who haven't had the vaccine.
While this pandemic presented a great many unknowns, it wasn't the first rodeo for many in the administrative ranks.
"It's like with our Ebola preparedness a number of years ago: It was about investing in planning for the unknown," says Chris Ruder, chief operating officer for The University of Kansas Hospital. "We've always done that to a significant degree, looking externally for how we can be prepared for highly infectious diseases. We had that Ebola team working on the next thing. We hit the ground running quickly in key clinical and operational ways as COVID hit us because of the way that work had been done."
That provide a foundation for the changes that would have to be made on the fly with a different kind of killer.
"What we've also been able to do the last year and a half is strengthen relationships with public-health partners and key partners in the community," Ruder said. "We had good relationships before, but not to the degree of the last year and a half. And that's a benefit to the entire community, because a lot of messaging had to happen to be consistent about dealing with covid—messaging to keep the fear factor down and be consistent about the things that were most imprint, like masking, and now vaccinations. We're better prepared as a community because those relationships have grown."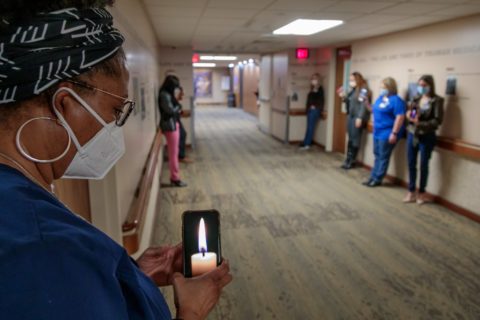 At Saint Luke's Health System, CEO Melinda Estes said it wasn't merely an organizational response to the crisis but one required of the entire profession.
"One overriding and repeating theme we've seen throughout health care all around the world is the sheer determination and commitment of these selfless professionals who've given so much of themselves during this crisis," Estes said. "It's been clear, too, that because of their dedication, they can truly make the impossible possible. We watched our teams do it time and again."
But it comes at a cost, she said. "As leaders, we need to be sure we are just committed to our employees as we (and they) are to our patients. That means staying committed to a culture of communication, kindness, and transparency; always making decisions based on what's best for the patient and for the professionals providing that care."
The lessons learned also came at a personal level for Steve Reintjes, who took over as CEO at North Kansas City Hospital just as the case counts were soaring in early 2020.
"Donald Rumsfeld's remarks about 'known-unknowns' have been with me since the outbreak of COVID-19," Reintjes said. "While the pandemic has created a great deal of uncertainty over the last year, I am sure of a couple things. When it comes to public health emergencies: One, we are able to expand bed and staff capacity to accommodate increased patient volumes; two, we can keep staff and patients safe using proper personal protective equipment and patient care protocols."