Kansas City reclaims the headquarters for a well-known national brand, adding Hostess Brands to a glittering lineup of private companies.
Hostess bakeries have reopened under new management and their tasty pastries, including the iconic Twinkie, are back on store shelves after new owners brought Hostess out of last year's bankruptcy.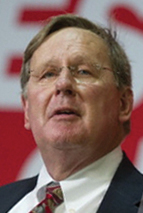 Rich Seban, president of Hostess Brands
---
---
"There is tremendous passion and pride for the Hostess brand in this area, and we're proud to once again call it home." Rich Seban, president, Hostess Brands
---
The emergence of Hostess Brands—which brings a familiar name back to its original home in Kansas City—required savvy equity partners who could focus on innovation, growth, the challenge of nationwide delivery and market research showing the world has a huge appetite for sweets.
Metropoulos & Co. and Apollo Global Management—founded by New York-area billionaires Dean Metropoulos and Leon Black—teamed up to purchase select Hostess assets this year for $410 million. Other brands such as Wonder Bread, and pastries less famous than the Twinkie, were gobbled up by Flower Foods and McKee Foods. Spokesmen for "the new Hostess" claim the Twitter universe blew up when it heard of the bankruptcy last year but now that Twinkies have been in stores since mid-July, they are flying off the shelves.
When they bought their piece of Hostess in March, the new owners had a goal of operating their bakeries less expensively and more efficiently, so the company trimmed its facilities from 11 bakeries to four, in Columbus, Ga., Schiller Park, Ill., and Indianapolis, and they designated as their new flagship the Emporia, Kan., facility. By the end of the year, about $100 million will have been spent upgrading bakeries to improve capacity and to "ensure consistency of product quality," a spokesman said. Plans are underway for a fifth bakery in a yet-to-be-disclosed location at a cost of about $75 million.
"Hostess Brands is focused on investing in this company, reinvigorating these iconic brands and innovating to meet evolving consumer preferences with new products," said Rich Seban, president of Hostess Brands, for which Metropoulos himself will serve as CEO. 
Even though Hostess Brands may not be in the league of Kansas City's giants in the food-chain sector, some Kansas Citians are proud to expand a lineup that already includes such multi-billion-dollar companies as Dairy Farmers of America, National Beef Packing Co., Associated Wholesale Grocers, Lansing Trade Group and Seaboard Corp.
"Having a company headquarters in Kansas City that is in the core business—the historical business—of food and agriculture is great," said Pete Fullerton, president and CEO of the Economic Development Corporation of Kansas City. And despite the distance, Fullerton said Kansas City could "claim Emporia" as part of the wider region: "It is certainly a positive for Kansas City. It's a match for our historical roots and it's nice to see we can continue that kind of legacy," he said. 
The company plans to invest more than $40 million at the Emporia baker, creating more than 300 jobs there. The return of its corporate headquarters to Kansas City brings about 75 employees.
"Hostess has long had operations in Kansas City and it provided an ideal location for our corporate headquarters," said Seban. "There is tremendous passion and pride for the Hostess brand in this area and we're proud to once again call it home."
The company has a new business model by which truck drivers are no longer salesmen, and outside trucking companies deliver to warehouses that supply retailers in order to expand reach. Trucks
from Associated Wholesale Grocers, for instance, deliver Twinkies from warehouses to the Cosentino and Price Chopper stores.
The company won't comment about unions or related financial problems that the previous owners encountered, but union sources say a mostly unionized work force of 18,500 under the predecessor has dwindled to 1,800 non-unionized workers. 
The baker's union is angry. "Despite the fanfare, the long-term viability of this effort is highly uncertain," said David Durkee, president of the Bakery, Confectionery, Tobacco Workers and Grain Millers International Union. "Rather than hire professional, experienced bakers who have produced quality snack cakes in the company's bakeries for decades, Hostess management has chosen instead to hire primarily workers with little or no experience in the demanding wholesale snack-cake baking industry," 
Hostess, however, says it intends to hire the most qualified applicants, regardless of previous or current union affiliation, and that many of its current employees throughout the country are former union members. The company says it is offering a very competitive compensation and benefits package. 
A few of the 600 Hostess outlet stores that used to sell product directly to consumers will remain open, but Hostess Brands will not operate them. The new owners see the potential for making a lot of dough with the numbers of convenience, discount and dollar stores selling Hostess products ballooning to a predicted 160,000 by the end of the year under their distribution plan.
"The goal is as simple as it is ambitious," said Seban. "You should be able to buy a Twinkie anywhere you can by a candy bar."
The company lived through many flavors since the first Hostess Cup Cake was baked in 1919. In 1930, a baker at Continental Bakeries made his first Twinkie, which sold for about a nickel. Now, a box of 10 will cost you $3.99. Interstate Bakeries Corp. bought Continental in 1995 and together they became the largest wholesale baker of bread and cake in the United States. In 2009, Interstate changed its name to Hostess Brands. But within three years, it was bankrupt, with the company blaming slumping sales and union issues for the bankruptcy.
Nearly 7,000 employees belonged to the bakers' union, working at 33 bakeries across the country, and 7,500 others were drivers and merchandisers who were members of the International Brotherhood of Teamsters, which had negotiated for years to save jobs at Hostess. Dennis Raymond, a director with the Teamsters Bakery and Laundry Conference said, in 2012, "It was not a failure of Hostess' workers that led to this bankruptcy; it was the inability of management to execute their business plan."
The company tried to restructure, offering a new contract, lower wages and less benefits. The Teamsters accepted the deal, but the bakers' union rejected it.
So why would the company bank on better sales, now? Seban thinks it's about a historic comeback, a once-in-a-lifetime-opportunity to leverage the brand's nostalgia … relevant to today's consumers.
But it could have something to do with what we Americans eat. The American Institute of Baking, in Manhattan, Kan., says Americans spent more than $1 billion on pastries during the year ending May 2013, and that's an increase of more than 4 percent from the previous 12 months. Euromonitor International says worldwide consumption of packaged pastries is close to $5 billion. 
Who's eating them? According to a Canadian government report, the largest American markets for such products are low-income singles, and single and married active seniors. 
The iconic Twinkie—the soft sponge  cake with a creamy filling that has been deep-fat fried, covered in chocolate on a stick, and made into its own sushi by Twinkie-crazed Americans—will be delivered alongside CupCakes, DingDongs, HoHos, Zingers, Donettes, fruit pies and mini-muffins. SuzyQs and SnoBalls will make their come-back later.