A 250 Star-Studded Solar Eclipse
---
---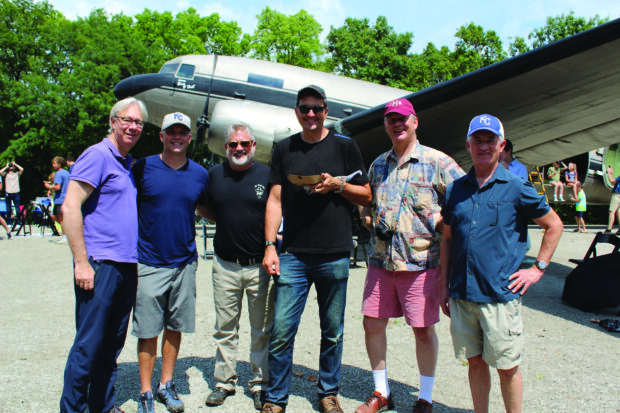 ---
Members of this year's Ingram's 250, including host Danny O'Neill, turned out for the solar display. From left: Julian Zugazagoitia of the Nelson-Atkins Museum of Art, Matt Condon of Bardavon Health Innovations, Terry Bassham of Kansas City Power & Light, Danny O'Neill, and Commerce Bank's Jonathan Kemper and Kevin Barth.
Kansas City's Bean Baron, Danny O'Neill, throws a watch party for the ages.
Aug. 21 produced the long-awaited total eclipse, a national event for which the Kansas City area was impressively positioned. And the skies parted.
Along an arc that ran from St. Joseph, across Missouri to south of St. Louis, the eclipse prompted millions of regional residents—and an uncountable number of tourists—to seek prime viewing spots for the rare display.
Danny O'Neill, founder of The Roasterie, sponsored an eclipse watch party at his farm near Excelsior Springs, an event that drew numberous luminaries from the Kansas City business community, along with their families and friends.
Businesses across the region used the event as a team-building exercise, hosting watch parties of their own, allowing employees to take time off, or inviting employees' families to join them at the workplace to witness a bit of celestial history being made.