$45M redevelopment to freshen Country Club Plaza building, welcome Chiefs Fit as tenant
---
---
Over the next several weeks, redevelopment will gain momentum of a Country Club Plaza building as it prepares to welcome its tenant, Chiefs Fit, into the space.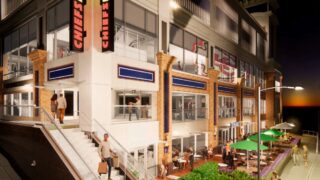 Rendering courtesy of Chiefs.com
---
The expanding fitness center is a partnership between the Kansas City Chiefs and 24 Hour Fitness, and will sit inside the Jack Henry Building at 612 W. 47th Ave. It will occupy 39,500 square feet across two floors and a rooftop terrace.
The Jack Henry building is being redeveloped by a local ownership group consisting of Drake Development, Jim Klausman and Butch Eaton. The group is embarking on a $45 million redevelopment project that's slated to start in the next two weeks.
Chiefs Fit will offer Chiefs-branded free weights and machines, a full floor of cardio equipment, group fitness classes, personal training services, a retail shop and more.
"We are weeks away from opening Chiefs Fit – Metcalf and we've seen incredible interest and buzz about that facility over the past few months," Chiefs President Mark Donovan said in a news release. "Having the ability to announce a second location this quickly, and in this historic and vibrant part of the city, will provide more access and more amenities for those looking for unique fitness options on both sides of the state line."