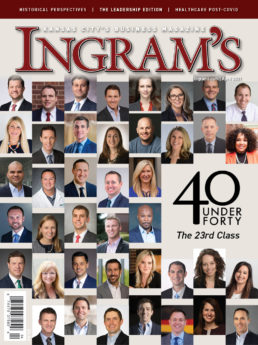 Not that we're prepared to buy into certain social scientists' parsing of generational differences, but if you go by some measures—including the ones bent on compressing designations of a "generation" to as few as 15 years—then this year would mark something of a milestone for 40 Under Forty:
As of 2021, and for nearly a decade to come, members of this elite group of young executives all hail from the Millennial Generation. Just as we bid adieu to the last Baby Boomers with the 40 Under Forty class of 2003, we now salute Generation X upon making its . . . generation exit.
Happily, Gen-X did not take all the talent with it on its way over the threshold, as the achievements of this year's honorees clearly demonstrates. This accomplished field hails from the ranks of banks, law firms, wealth management and companies, insurance companies and health-care providers, construction and design firms, tech, transportation and real-estate concerns. They include owners, entrepreneurs, C-suiters, partners and principals from 40 distinctly different enterprises in the region. 
In short, they bring a diversity of business backgrounds matching that of the broader regional economy itself.
As we roll steadily toward an alumni group 1,000 strong—we'll get there with the Class of 2023—this impressive collection of executive-level talent has made its mark on more than business life. A key differentiator for recognition each year is the depth of commitment to civic and philanthropic endeavors—the kinds of activities that add strong fibers to the weave of healthy communities.
Accordingly, 40 Under Forty alumni can be found in surprisingly large numbers on the boards of the region's leading civic organizations, non-profits and educational institutions, supporting school activities or coaching youth sports, and quite often, writing the big checks that keep those organizations sound.
Not to be name-droppers—well, no, precisely to be name-droppers—just consider some of the key business leaders in this region who were recognized as 40 Under Forty on their way up the organizational ladders:
That inaugural class of 1998 included the likes of Kevin Barth, now chairman at the second-largest locally headquartered bank, Commerce Bank; Sandy Kemper, the former UMB CEO who has made a ginormous fintech splash with C2FO; Keith Copaken of the Copaken Brooks commercial realty czars; Michael Carter, who leads the radio broadcast empire; hotelier Kevin Pistilli; philanthropy wizard Bob Dunn of the Dunn Family Foundation and JE Dunn Construction; former AMC Entertainment CEO Peter Brown; David Hall of Hallmark; appeals court judge Lisa White Hardwick—and that's just a slice of it. That was—still is—an impressive, and influential group.
So impressive, in fact, that editors at the time didn't think the achievements of that cohort could be matched; as a result, there was no Class of 1999. There quickly followed a realization that Kansas City was, indeed, brimming with young, emerging leaders. Since resumption of 40 Under Forty in 2000, the honor roll has been teeming with names that dominate business, civic and philanthropic life here today. Here are just a few:
From that 2000 grouping, Steve Bernstein, now leading the Bernstein Rein ad agency; noted bankers Mike Boehm (Commerce Bank, and longtime mayor of Lenexa) and Grant Burcham; Jonathan Baum, of the capital-markets concern; and former U.S. attorney Todd Graves (whose brother, Sam, was honored in 2002 and now represents northern Missouri in the U.S. House), and commercial realty executive Troy Nash of Newmark Zimmer. Some serious firepower there.
From 2001: AMC general counsel Kevin Connor; Global Prairie co-founder Anne St. Peter, an inspirational advocate of the Benefit Corporation business model; commercial developer Dan Lowe of Legacy Development; and Rick Norden, president and CEO of Fairbanks Scales, perhaps the oldest continually-operating enterprise in Kansas City.

 
From 2002: Greg Maday, chief executive of SpecChem, LLC and co-owner of Sporting Kansas City; current chief executive Debbie Wilkerson of the Greater Kansas City Community Foundation; and Mike Valentine, the former Cerner COO who now is president and CEO of behavioral-health software provider Netsmart.
From 2003: Ron Lockton, now chairman and previously CEO of Lockton Companies; JE Dunn's current chief executive, Gordon Lansford; national-level political consultant Jeff Roe; Polsinelli workplace law guru Denise Drake; Husch Blackwell's current Kansas City office managing partner, Jeff Simon; energy exec Jeff Mohajir; and former Treat America/Company Kitchen chief executive John Mitchell, Jr.
The class of 2004 gave us Lockton unit president Joe Agnello; Intouch Group founder Faruk Capan; CrossFirst Bank co-founder and current chairman, Mike Maddox; Gail Worth, the former Harley dealership owner now heading up Gail's Powersports; and UMB's current chief executive, Jim Rine.
Ladies and gentleman, those are but a few of the highlights from some of the earliest classes of 40 Under Forty. The years that followed gave us leaders like Peter Mallouk of Creative Planning, Neal Sharma of DEG and Marty Bicknell of Mariner Wealth Management, to name but a few more. Like their predecessors, they have gone on to build market-leading enterprises and change the course of business in this region.
Not to put any pressure on this year's class—or those from preceding years—but the combined achievements of those honorees are a lot to live up to.
So we're excited to be watching, and to see where each of our 40 Under Forty alums are headed in the years to come.