Ingram's Corporate Champions turns 15 this year, and we can't think of a better time to reflect on the commitments made by companies to improve the overall quality of life in the Kansas City region.
This year's honorees—Bank of America, Basys Processing, Cherry Co., Country Club Bank and H&R Block—represent the range from family-owned to global in scope, a testament to the breadth of this region's corporate community and KC's philanthropic spirit.
Looking further back, Ingram's has now recognized nearly 90 individual organizations, a testament to the depth of that same spirit.
From highly structured organizational giving, blending financial commitments, board service, volunteer programming and paid days off for service, to small-scale commitments of cash directed toward employees' specific interests, Kansas City companies have shown the world that there's more to business than the bottom line.
They are playing on a stage with plenty of room for more actors. Consider the wisdom of Basys Processing's Brad Oddo, one of this year's honorees: "I know so many people, including myself, who want to get more involved but just don't know where to start. My advice? Start anywhere, just so long as you start."  
We can't think of a better call to action.
Bank of America
The nation's second-largest bank has 4,001 branches across the land, and last year, within the communities it serves, it directed roughly $250 million to promote civic and community life. It would be easy to take a cookie-cutter approach to that philanthropy, divide a mountain of cash into equal parts, and be done with it. That's not the Bank of America way. Instead, a focused program of support for the arts and promotion of job creation are pillars of what the bank hopes to improve in the Kansas City market, which received a $4.1 million slice of the pie last year. "Across our markets, we recognize the power of the arts to help economies thrive, educate and enrich societies, and create greater cultural understanding," says market president Matt Linski. "Our focus here is particularly strong because the arts are vitally important to Kansas City. We're an arts town and the arts are intrinsic to our quality of life. And they have substantial economic and employment impact in our community." On top of that, he says, the mission is to create and grow jobs while generating economic pathways. "We lend to small businesses that help keep our economy running, and provide funding to help ensure basic needs are met as the basis for a healthy population. We do all of this at the local market level and across all of our markets within the enterprise. We have an active role as a key partner in this community, helping us deliver our global capabilities with a local, personal focus." There is some process behind all of that. "Each year, we evaluate how long-standing partners and new organizations are delivering solutions that meet current needs in Kansas City to determine our funding," he says. Volunteering and giving are central demonstrations of corporate values, including a commitment to driving progress on societal priorities. "One of our most valuable assets is the time and talent of our dedicated employees," Linski says. "We help them make an impact by encouraging volunteering—during work hours or after—on their own or with teammates. Matching gifts and volunteer grants enable our employees to direct funding to causes that are most important to them." There's more involved here than a job at a major bank. "We live here. We work here. We are local. Our roots trace back to 1886," Linski says. "Our company's focus is on responsible growth producing strong results, by ensuring the needs of our clients, employees and communities are met."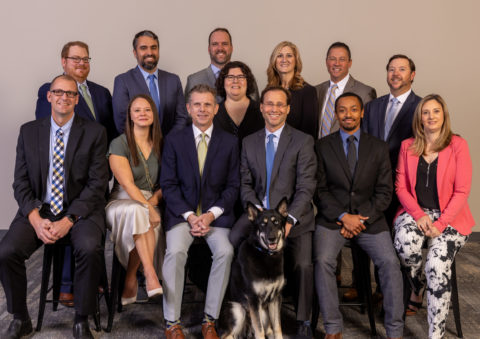 Basys Processing
At Basys Processing, philanthropy is a team sport. The Lenexa-based company was founded in 2002 to process credit-card payments for banks, but CEO Brad Oddo was determined to build something more meaningful. "Basys is a team of awesome people who like to help and make the people around us happy, so being able to give back is just second nature for our group," he declares. "We are a community based, locally grown organization and we love KC. At our core, Basys believes in giving back to our community." Among the favorite projects there, he says, are the ones where large groups can get involved. "One of our favorite charities is when Bags of Fun comes to our office and we assemble backpacks with toys and gifts for kids. Our team really feels and sees how giving this backpack to a child in the hospital will make their day better." The company's efforts will expand in 2023 as employees will receive a paid day to do volunteer work to help encourage community involvement. The company also commits $500 annually, per employee, to a charity chosen by the employee. That has benefitted a long list of nonprofits, and it's a particularly effect strategy to promote engagement, Oddo says, because the dollars are going to a place that means something different to each employee. "We have seen that this involvement is often personal, with members of Basys often already being a volunteer or becoming one for the charities they love," he says, and that has been one of the most positive aspects for the team and the company culture. "We look for organizations that can shape a future and make meaningful and long-term effects for the positive in their lives. My goal is to share with as many people as I can know about some of the great organizations serving our community," says Oddo, who makes an example of board service by serving with the Police Athletic League of Kansas City, Kan. "I know so many people, including myself, who want to get more involved but just don't know where to start. My advice? Start anywhere, just so long as you start." 
Cherry Co.
It's not like Thalia Cherry didn't have enough on her plate at Cherry Co. when the Lending Tree study came across her screen in 2020. But she decided to make room for more. The study ranked Kansas City No. 49—one spot ahead of St. Louis—pegging them among the worst cities for businesses of color to stay in business for at least five years. "This jolted me to create and design an internship program, named Entrepreneurship KC to reverse this result," she says. "The three elements that affected long term business growth were capital, access and mentorship. I believed that by extending my network and integrating these elements for future generations, the high school students would successfully develop an entrepreneurial mindset that would change their trajectory, and thus the alarming statistics for future entrepreneurs in the state of Missouri." She found willing collaborators in the The Kauffman and the DeBruce Foundations, which saw the value in building a sustainable infrastructure for that instruction, and this summer, Pro X was born. "The vision of our company is to elevate others to achieve their greatest potential, which directly aligns with our philanthropic passion," Cherry says. "We believe creating transformative opportunities for high school students through Pro X, the regional internship program, is impacting and changing the trajectory for future generations through financial education, design thinking constructs and equity." The corporate values are direct descendants of her family line. "My parents, Admiral and Mary Ann Flunder, demonstrated the value of community investment in their personal and professional lives," Cherry says. "They instilled  and modeled the importance of dedicating one's life to  build others and community regardless of race, ethnicity, gender or finances." Already, hundreds of potential young entrepreneurs have responded to the opportunity, which elicits an immediate response from Cherry: "Wow." The first thought that comes to mind, she says, "is how my parents would feel that their influence and example is the reason so many young people can aspire to reach their dreams. I genuinely believe this is my purpose, and being someone of faith, I've witnessed barriers being moved to ensure young people are presented with incredible opportunities because so many people in Kansas City have a heartbeat to help others achieve."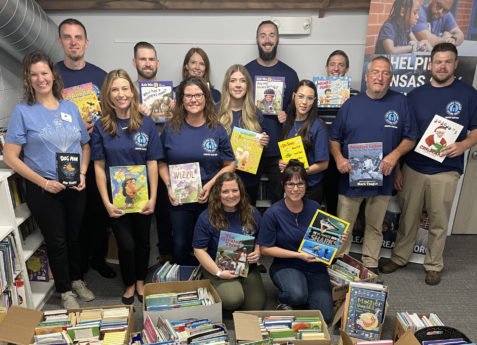 Country Club Bank
There's corporate philanthropy, and there's generational giving. The two concepts fit together neatly at Country Club Bank as a third generation is stepping in to carry on the civic commitments of the late Byron Thompson, an iconic figure in regional banking. He put in place some general guidelines that have served the bank—and, by extension, regional non-profits—well since 1985. Thompson's son, Mark, is part of the senior leadership team steering the philanthropic outreach. The bank's programming has three foundational pillars: First, to follow the founder's directive of hiring people committed to the community; putting structure around that philanthropy, and getting executives from non-profits through the front door to build personal relationships with employees. "As a result of these efforts, a philanthropic mindset is now rooted in the daily culture of our CCB family of associates," Thompson says. "These values built the foundation of Country Club Bank, and they continue to build it today, a reminder from our father to 'do well, and do good.' " Most of the bank's outreach focuses on building community and addressing basic needs—what Thompson calls "the most important jewels of Kansas City, which include our children and families. Investment in our youth through educational programs and social services, no matter how small, has an exponential, generational impact that pays dividends for decades to come. Also among these jewels are icons such as the Kauffman Center for the Performing Arts, the Nelson-Atkins Museum, Starlight, the World War I Museum, MRIGlobal and other organizations that have the potential to inspire large numbers of people." Beyond that, the bank seeks to leverage the individual interests of its employees, and engages them to determine destinations for dollars, board service, volunteering and other resources. "When you look at our broad giving as being like the capillary system of the human body, we get blood to the extremities, to the small non-profits and other organizations that are often overlooked but are vital, nonetheless," Thompson says. Most satisfying to the Thompson family, he says, is seeing CCB associates exercise their own philanthropic spirit. "Hundreds of CCB associates participate in Team Impact as well as their own personal causes each year," he says, and those efforts have raised millions of dollars for a diverse range of charitable causes.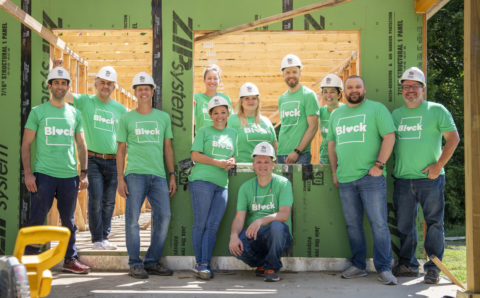 H&R Block
With $3.4 billion in annual revenue, H&R Block has the scale to make a philanthropic statement that can be heard across the nation. Its Block Horizons 2025 transformational strategy, in fact is focused on doing just that, with goals of supporting organizations in 500 communities in all 50 states, uplifting half a million small businesses (15 percent of which are historically unrepresented) and providing 1 million volunteer hours. What makes the Block approach so effective is the opportunity to go granular with efforts in each of those localities. "While our Make Every Block Better community impact platform has a national impact, we were intentional about partnering with local organizations to apply our focus on connecting neighbors and supporting small business owners to Kansas City," says Jen Houston, senior manager for community impact. Those hometown efforts include donations to Habitat for Humanity, the KC Rise Fund to invest in high-growth, early-stage tech businesses, as well as the Neighborhoods Rising Fund, which provides critical funding to support community-led projects in underserved neighborhoods. Black owners of small businesses find access to capital thanks to the company's support for the Urban League of Greater Kansas City, and funding for the Urban Neighborhood Initiative creates community-building events that foster relationships and help homeowners build wealth by maintaining their homes. All of it is the product of intentionality. "Three years ago, we set out at H&R Block to focus our community efforts on neighborhood improvement—in Kansas City and across the country," Houston says. "We believed if we could help neighbors connect, we could reduce loneliness and isolation and we knew connected neighbors would be the cornerstone of vibrant communities. Today, we call that work Make Every Block Better and we're dedicated to improving the spaces and places where neighbors connect and supporting small business owners so the spirit of entrepreneurship thrives in communities." None of this is surprising considering the philanthropic legacy created by the late Henry and Richard Bloch, the firm's founders. "Giving back to the community," Houston says, "is part of the H&R Block culture."