Three topics kept the nation transfixed in 2020: 
A long, bitter general election campaign leading up to the emergence of President-elect Joe Biden by the barest of margins in a handful of swing states. 
Large-scale riots, looting and violence that received tacit encouragement from elected officials in many large cities.
And a killer virus that would transform public health policy, wreck health-care provider financing and be blamed for a quarter of a million deaths before the end of the year. Along the way, we all became acquainted with terms like "pandemic," "lockdown," "shelter in place," "nasopharyngeal swab" and abbreviations like WFH (Work From Home) and PPE (Personal Protective Equipment). 

That's the kind of year it was: ugly mortality and infection numbers, ugly political rhetoric, ugly protests over purported injustices where opposing factions couldn't even agree on either the root causes of social inequality or the reality of systemic racism itself.
But once you get past the steady drumbeat of dour headlines and nightly news, you can see some of the economic bright spots of 2020. It wasn't all bad news.

January
2. Starting the new year with an optimistic tone, the construction partnership for the new, single-terminal Kansas City International Airport declares that the project is on budget and on schedule for its projected 2023 completion. Edgemoor Construction & Real Estate says airline requests and a larger terminal footprint have pushed costs to $1.5 billion, nearly 50 percent more than the plan 
approved by voters in 2017. Work is expected to be done by April 2023. 
February
2. Dairy Farmers of America, the largest private company by revenue based in the Kansas City area, announces that it will acquire Dallas-based Dean Foods for $425 million. The deal gives DFA 44 of Dean's 50 manufacturing facilities and includes brands, such as  Land O Lakes, DairyPure, TruMoo, Tuscan and others. The deal could potentially increase DFA's revenues, which hit $15.8 billion in 2019, by roughly 50 percent, based on Dean's 2109 performance. 
March
5. After 80 years in business, the iconic Kansas City hamburger chain Winstead's files for Chapter 11 bankruptcy protection, along with its parent company, Haddad Restaurant Group. 
27. Congress passes the CARES Act—for Coronavirus Aid, Relief, and Economic Security—including provisions for forgivable low-interest business loans under the Paycheck Protection Program. The $2 trillion spending measure is designed to provide quick financial support to individuals and families as record numbers of workers lose their jobs. Later enhanced with new funding, the PPP would eventually provide companies with $659 billion to help keep employees on the payroll. Kansas City-area banks made 4,677 loans of at least $150,000 under the program. 
April
1. It was no April Fool's Day joke: Sprint, long the largest private employer in the Kansas City area, formally bowed out with completion of its merger into T-Mobile. The combined company continued to operate under the name T-Mobile, and the Sprint offices with roughly 5,500 employees transitioned into second-
headquarters status.
May
25. A man being detained by Minneapolis police on suspicion of passing counterfeit currency dies in their custody, and videos show that one officer had kept a knee on the neck of George Floyd for nine minutes to keep him subdued. Floyd's death touched off a series of riots across the nation, destroying businesses in major cities from New York to Seattle, and lending a new prominence to the Black Lives Matter movement. Weeks later, an autopsy revealed that Floyd had more than three times the lethal dosage of the drug fentanyl in his system, which likely caused the fatal pulmonary failure.
June
22. Besieged by complaints that tens of thousands of laid-off workers are unable to file for unemployment benefits as the state's computer systems crash under the strain of historic user volume, Delía García resigns as secretary of the Kansas Department of Labor.
23. One of the region's biggest moves in the red-hot logistics space some with ground-breaking for Heartland Logistics Park, a $90 million industrial project covering 182 acres at Kansas Highway 7 and 43rd Street in Shawnee.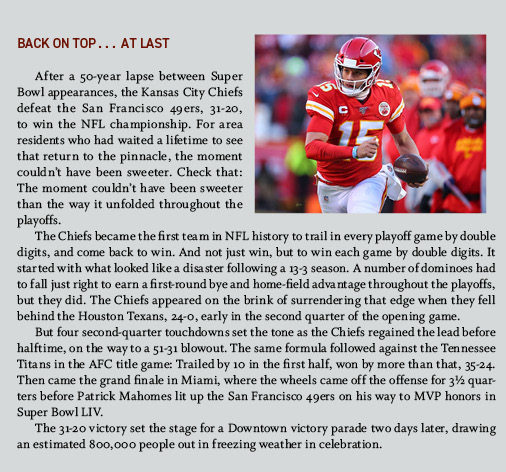 July
1. Overland Park-based NPC International, the nation's largest Pizza Hut franchisee, files for bankruptcy protection. The company produces a plan to sell off its Wendy's and Pizza Hut operations for $735 million and, failing that, to move forward with a corporate reorganization and debt restructuring.
21. Chewy, Inc., the on-line distributor of pet food and products, announces that it will built an 800,000-square-foot e-commerce fulfillment center in Belton. By 2022, it is expected to employ more than 1,200 people.
23. The Kansas City Council fast-tracks a proposal to build Golden Plains Technology Park, on 882 acres at I-435 and U.S. 169 in the Northland. With a high estimate of $6 billion, the project cost could easily surpass the Cerner Innovation Campus as the largest development in Missouri's history. Proponents say it will be the world's biggest tech park and data center.
29. The Kansas City Royals, nine months after being sold to a local investor group, get a new part-owner: Chiefs' quarterback Patrick Mahomes, shortly after earning a 10-year contract worth $500 million, secures a minority stake in the baseball team. At 25, he's the youngest part-owner in pro sports history.
31. GDP figures from the Department of Commerce show that the economic gains of the previous five years have been wiped out by three months of self-imposed recession as the nation continues to combat the spread of COVID-19.
August
4. Voters approve expansion of the federal Medicaid program, making Missouri the 38th state to approve expanding health-care insurance to as many as 250,000 additional low-income adults. Approval of a constitutional amendment, by a split of roughly 53-47 percent, took the issue out of the hands of the General Assembly, which had rejected expansion since passage of the Affordable Care Act in 2010.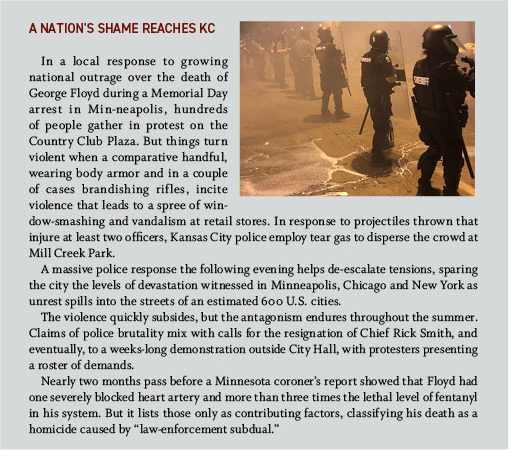 September
9. In one of the biggest regional M&A deals of the year, Kansas City-based BacklotCars announces that it will be sold for $425 million, just five years after its founding, to Indiana-based KAR Global.
October
8. Virgin Hyperloop dashes Missouri's hopes for selection as the high-speed magnetic-tech transit system and settles on West Virginia for its $500 million test track. Kansas City officials who had been involved with pitching a 240-mile route to St. Louis say Missouri could still be in line for a hyperloop route, which moves modules through a system of tubes at speeds up to 640 mph, cutting the cross-state travel time to less than 30 minutes.
29. The Commerce Department delivers the good-news metric of the year, announcing record GDP growth in the third quarter: 33.1 percent. Though still below pre-COVID-19 levels, it's a strong sign that the V-shaped recovery many economists had envisioned might be coming to pass.
November
6. At the site of the former Bannister federal complex in south Kansas City, officials from the state and private development interests break ground on the Blue River Commerce Center. The warehousing and logistics center will eventually employ an estimated 2,000 people in a series of buildings that will cover 2.5 million square feet when the complex is completely built out over the next decade.
10. Ford Motor Co. announces that it will invest $100 million to upgrade the Kansas City Assembly Plant in Claycomo in preparation for production of 
the E-Transit van, the electric-powered version of the popular business cargo van. The move will entail an additional 350 employees at one of the region's largest private employers, where more than 7,000 produce the Transit and the F-150 pickup.
December
4. In one of the biggest regional M&A deals of the year, Nesco Holdings of Fort Wayne, Ind., announces that it will acquire one of the  KC region's biggest and fastest-growing companies, Custom Truck One Source, an international provider of new, used and leased heavy trucks and construction equipment. The publicly traded Nesco says it will pay $1.47 billion for Custom Truck, led by Fred Ross, who founded it in 1996 with five siblings. The company surpassed $1 billion in revenues in 2019.