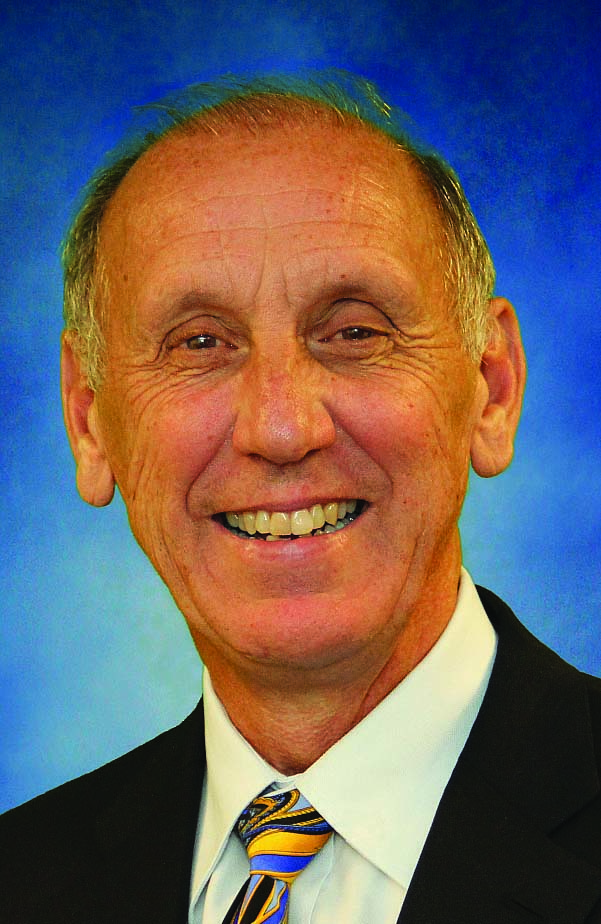 DENNIS CURTIN
It's a safe bet that nobody running a small diner in Kansas City's Northland has ever hit it big financially. So you can be sure that when Dennis Curtin saw his mother pick up the check for customers she knew had fallen on hard times, it made an impression. "It always stuck with me that in her own quiet way, she was trying to help out those families who were struggling in their lives trying to feed their families and still trying to make their budgets work," says Curtin, who would rise from odd jobs at the diner to become owner of an international real-estate sales powerhouse, Re/Max Midstates and Dixie/Ireland. He carried that image though high school and college, working at a grocery where food spoilage was common. "It dawned on me that the amount of food available was not the problem—it was a distribution issue," he says. "That realization never left my mind." Over the years, business success came in tandem with a realization that many people want to help, but don't know how to start. "I thought about that issue for a long time. Then it hit me: I could be a catalyst in getting people involved in a cause if I myself would get involved," Curtin says. The salesman at heart, who says he becomes a zealot for any cause that touches him, decided to provide the leadership others were seeking. Researching food pantries during his business travels, he discerned a need for sites to collect, store and distribute fresh fruits and vegetables. "I made up my mind that I was going to create a different experience for those folks who were in need of some help," he says. That was the inspirational seed corn for Mimi's Pantry, named after his mother, and he would run that non-profit like a business. "That meant we had to set up systems that could be duplicated over and over, regardless of who was running the pantry at the time," he says. He bought the commercial storage equipment needed, dedicated an empty building to the cause, and moved ahead with his concept of "local families helping families." What followed was eye-opening. A long-time volunteer with Harvesters, Curtin worked for months to learn how to assess need, only to receive a stark warning: The need is greater than you can budget for. "Wow, was he ever correct," Curtin says. "Food insecurity in our communities is a very real problem. Nearly one in six families faces some level of food insecurity. If you focus on that staggering number, it can be overwhelming. But then when you see the impact that receiving good, nutritious food has on a pantry client, it makes you realize all the hard work is worth it." Since opening June 1, 2019, Mimi's Pantry has served 8,218 families—23,974 people overall—in the most personal way you can impact someone's life: by providing the very food they eat. He credits guidance from and collaboration with Harvester's for that impact. "Harvesters is a well-run machine with top notch people," Curtin says, "and it is our honor and pleasure to associated with them."
---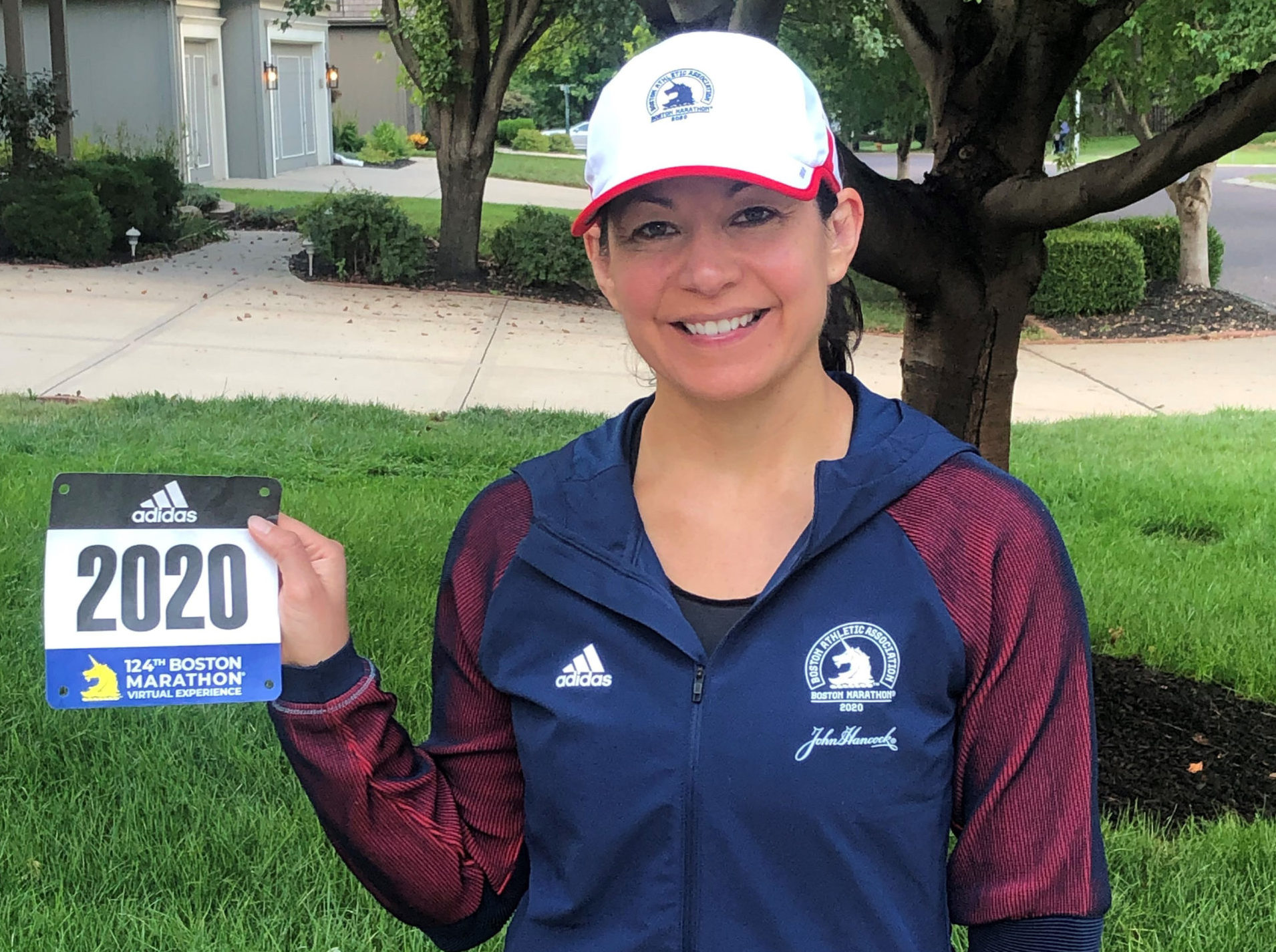 KATRINA SCOTT
The paper Katrina Scott holds in the adjacent photo is her participant document for this year's Boston Marathon. "But wait!" you say. "I thought the race was canceled because of COVID this year." Not quite. Canceled in April, but run in September. And not only in Boston. The granddaddy of them all, the world's oldest annual marathon, went off as a "virtual" competition. Which didn't stop Scott, chief investment officer for Mariner Wealth Advisors, from running the 26.2 miles. The delay disrupted her training schedule, and she had to re-orient for the fall. "Then the news came that they were switching it to a virtual event, where you make your own course, in your own city and run a marathon on your own," Scott says. "I must admit, the thought of running a virtual marathon sounded terrible. It's hard enough with the crowds cheering you on. But then I decided I needed to finish my training and run the race."And what a payoff that produced for Shatterproof, a non-profit that works to alleviate the social and emotional toll of opioid addiction. For a second straight year, Scott was the highest fund-raiser among the marathon's more than 30,000 runners, securing $275,000 in 2020 for a cause near to her heart. Her participation in the race is just one leg of a philanthropic stool steadied by personal philanthropy and engagement, corporate philanthropy from the firm, and her additional work as director of the Mariner Foundation, its charitable giving arm. All are grounded in small-town values on display throughout her youth, "seeing people act in generous ways," she says. "Everyone helped each other and supported one another through all things big and small." The same held at home: "We didn't grow up with a lot of money, but there were so many acts of kindness and time given to help others in need, that set a great example for me. My dad especially was always helping someone with something, and certainly showed me the importance of giving to others." Working for a nationally known wealth-management firm managing billions in client assets, she says, "has certainly taken my passion for giving back to a new level. So, while the roots of my generosity were planted in childhood, I think my growth and focus on generosity as an adult has become so much stronger because of being part of a culture that puts a strong emphasis on giving back." Her philanthropic vision has been sharpened by the influence of Mariner founder Marty Bicknell. "He says to us often that 'to whom much is given, much is expected,'" Scott says. "I wholeheartedly believe that and have tried to live that out as much as I can." How? With support for City Year Kansas City, sitting on that board, and the advocates board for HALO, and previous service on behalf of The Giving Grove, Big Brother-Big Sisters, the Boys and Girls Club, Girls on the Run KC, and Giving the Basics.
---
MIKE KANALEY
The late, great Buck O'Neill was legendary for his magnetic personality and ability to regale listeners with baseball tales from his years in the Negro Leagues. So when a relative newcomer to Kansas City—one with a built-in passion for baseball from his own youth—shook hands with O'Neill, Mike Kanaley was hooked. A native of Rochester, N.Y., Kanaley had come to Kansas City to work for Global Prairie, a different kind of marketing/communications firm—more on that in a second—and after meeting O'Neill at a Crown Center event, was quickly drawn into volunteering at the Negro Leagues Baseball Museum. Before long, he was a member of its board, and has retained that seat for the better part of 20 years. "One conversation with Buck was enough to lure in anybody, not just someone who loved baseball," says Kanaley, Global Prairie's managing director of operations. "It has been an almost two-decade run of engagement with this wonderful organization I am so passionate about." His civic engagement also includes five years on the board of the Reviving Baseball in the Inner City (RBI) organization on behalf of the Boys & Girls Clubs of Greater Kansas City, the Kansas City Area Development Council's board, and volunteering in the Shawnee Mission school district, where his children attend school. The NLBM work, though, holds a special place for him. His passion for the cause led to the firm's work designing the museum's 100th Anniversary logo, worn on every major-league player's uniform in August as a tribute to the Negro Leagues. The firm also contributed work on the Tip Your Cap campaign tributes to the Negro Leagues, drawing in the living former presidents, athletes, celebrities and even astronauts in space. And staffers produced the NLBM-inspired Downtown streetcar and bus designs. With the issues the nation has faced this year regarding matters of race, he says, "the museum serves as an even more important place for peaceful dialogue." His work with various agencies is of a piece with the foundational principles of Global Prairie. As a certified Benefit Corporation, it donates at least 10 percent of its profits each year back into the communities where it has offices. The idea, Kanaley says, is "to use business as a force for good in the world. And, since day one, we have done just that as a company and given back more than $11 million to civic and charitable organizations around the world. Additionally, our entire team is encouraged to be active within our communities, whether serving on boards, committees and other areas of non-profits. The idea is to engage both in our work and in our community, giving time to organizations that mean something to each of us personally. It's a way of thinking that was easy for me to get excited about and I'm proud to say that it is something that inspires our entire team."
---
JANET BAKER
"There is nothing more fulfilling," says Janet Baker, "than feeling like you're making a difference. I think everyone needs to know they matter and have the ability to be that difference in someone's life." She should know. Her day job is executive director of Shepherd's Center Central, focusing on the needs of the elderly, but for decades, she has filled her calendar with extensive board and volunteer service, along with a work history that has produced expertise in the non-profit sector, work-force development, community-building, health and human services,  sustainability, education, and business and corporate strategy. Such depth of service, she says, is a learned behavior. And while a 28-hour day would help, more important for any aspiring agent of change is a realistic assessment of potential impact. "I see a lot of people trying to serve on five or 10 boards," she says, harkening back to advice from Beth Smith, whom she calls the mentor emerita for non-profit leadership. "She told my KC Tomorrow class that if you are a good board member, doing your due diligence to really devote the time and understand the organization, as well as the essential work of bringing necessary funds to the organization you're leading, you really can't serve on more than two or three boards at a time." That guidance prompted some agonizing reappraisal, then Baker resigned from several boards and has never served on more than two concurrently in the 30 years since. And yet, none of her service might have been possible without what she calls "a real change in trajectory. "I grew up in Fairway, went to Shawnee Mission schools, was a KU sorority girl—all things being equal, I expected to find a husband and live life in Johnson County." Then she took a position with Kansas City's Chamber of Commerce, which led to her assignment as founding executive of the Full Employment Council. The man who hired her for that, Greg Baker, would become more than a boss. "That was what God had for me," she says. "There was no logical explanation for us to have met or our paths to have crossed," and his background growing up in east Kansas City opened her eyes to community need. "I have had so many new opportunities to connect both east and west of Troost and all aspects of the community because I happened to marry an African-American man who opened up Kansas City to me in a way I honestly didn't know I had an opportunity to see." The dozens of organizations she has served or worked with nearly always involved the leadership of each: "I literally started my car-eer at the CEO level—not as a CEO, of course, but working with so many CEOs. That's a unique experience for a 25-year-old." That work instilled an appreciation for the power of collaboration. It would be tough, she acknowledges, for young executives to replicate her path. "But there is an opportunity to network with community leaders; KC is amazing at that." Executives here, she says, are famous for responding to requests about how to get involved, and offering guidance on the best ways to make a difference.
---
ROB REIMAN
Part of it goes back to Rob Reiman's boyhood, climbing trees to gather apples and cherries that went into his grandmother's pies and strudels. Part of its came out of a career in financial services that taught budgetary discipline. And part from conversations with friends at church about feeding the nation's needy. Each experience is a thread woven into the fabric of The Giving Grove, which Reiman founded not quite a decade ago, a non-profit impacting the lives of thousands with a series of 241 community micro-orchards. One of his co-congregants at Church of the Resurrection, Greg Finkle, assesses that impact thusly: 826,249 pounds of food, 60,324,524 servings, and each orchard yielding $9,755 in produce production value—and all of it free to the neighborhoods. It stems from a belief that traditional means of providing food are too often grounded in emergency need, rather than in sustainable supply. Since his formative years back in Iowa, he says, "I've always been enamored with growing my own food, but especially with perennial crops including fruits, berries and nuts." Later in life, as time became available to give back, he and his wife began seeking out organizations focused on solutions to social injustices at the root-cause level. They wanted sustainable, transformative change. During a conversation with members of a church group filling kids' backpacks with food items, someone invoked the adage about giving a man a fish. "That led to the notion of teaching communities to grow a lifetime of nutritious food by way of little orchards," Reiman said. "Each represents a sustainable long-term solution that equips and inspires residents, young and old, to develop their own nutritious food system and build resilience for their community." It is, he says, "an uncommon solution in uncommon times." The power to expand that concept came from collaborations and a realization that existing organizations like Kansas City Community Gardens already had the infrastructure to advance this cause. "That meant we could immediately begin partnering with our Kansas City neighborhoods and planting little orchards," Reiman said. "After the trees began producing in year three and four, we decided to pilot the idea in a couple other cities, and we had more good fortune as we connected with organizations in Omaha (The Big Garden) and St Louis (Gateway Greening)." It wasn't always easy, bringing to the non-profit world the organizational imperatives he'd absorbed in 30 years with Deloitte. From Day One, his leadership team"has emphasized the need to operate with the efficiencies and approaches of Corporate America," he says. The community served as shareholders; health, neighborhood resilience and regenerative soil were the ROI. "I've probably broken a bit of china along the way," Reiman confesses, "but certainly have come to greatly appreciate the compassion of the non-profit work force. Collectively, it moves mountains."
---
LEW WIENS
Success was not gifted to Lew Wiens. Everything he has, every blessing he's been able to share with favored causes, has come from the kind of hard work known only to those who grew up, in his words, on the other side of the tracks. In his youth, those tracks ran through Hutchinson, Kan., which had proved to be a refuge for Mennonites whose farming dreams died amid the howling Dust Bowl storms of the Depression era. "My granddad was wiped out by five years of crop failure," Wiens says, but even after leaving the farm, his family clung tight to its values. He earned a business degree from the University of Kansas, served in the Navy, then began to apply his business education in the real world, starting with the toil of a small homebuilder before a six-year stint running a plastics company. In each case, business ownership further influenced his understanding of need, and the opportunity that the business community plays in addressing it. "The charity thing starts inside of a person," he says, and with his early-career experiences searching for talent amid a blue-collar class, "some of the people we hired just weren't on the same financial level, and needed help. Those giveback ideas formulate as you go through life." In 1983, he founded RHW Companies, which took him into hotel development. Today, his True North Hotel Group operates nearly 75 hotels nationwide, flying flags that include the Marriott, Fairfield Inn and Residence Inn brands, among others. That success has allowed him to give not just with his checkbook, but with his executive skill at the board level. Among his most recent beneficiaries: Cross-Lines, the Wyandotte County agency serving underprivileged residents, and a spinoff of the Wounded Warrior Project with a special emphasis on assisting war veterans with traumatic brain injury. His Cross-Lines engagement came through an acquaintance who happened to be the outgoing board president for the non-profit. But first, he had to check it out in person. "If you went to board meetings alone, you wouldn't get too involved," Wiens says, "but if you go and serve breakfast, participate in the thrift shop and see the case workers working with the folks and start understanding what they're doing, I think that kind of participation is what brings more dedication in taking up the cause of the charity." Thus inspired, he spent six years on the board and took leadership roles in major fund-raising efforts. He later was asked to be on the board for Omaha-based Wounded Warriors Family Support and its Dunham House, a refuge for those recovering from brain injuries. He continues to get requests for service and donations—as many as eight to 10 a day—but knows the needs are far greater than the time he can commit to so many causes. "Unless you're really involved and know what's happening from a leadership role through the board," Wiens says, "you don't know if your contribution is really helping the way you think it is. You have to participate to really know."