Nominate an Icon of Education for next year!
Shaping Young Minds Has Been a Life's Calling
Long ago, every one of them had a choice to make: Pursue a career with significant
financial rewards, or pay forward what they learned in school to those to who followed. 
Often, that meant starting at the bottom of the educational tier as teachers, then assistant
professors or junior-level administrators before reaching their career destinations.

It wasn't about the money then; it was about the mission. Today, their choices and that mission have produced a regional work force that drives economic growth and improves the quality of life for millions living in Missouri and Kansas. Those who committed their lives to that process are Ingram's Icons of Education, and we are honored to present to you the Class of 2020, our 12th installment of these exceptional educators.
---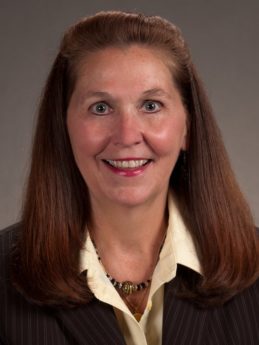 LINDA-ADAMS WENDLING
Emporia State University
Linda Adams-Wendling's career path was set about 46 years ago, but she says it doesn't seem like much time has passed since beginning her journey in health care at a nursing school in rural Iowa. "I remember as if it were yesterday," recalls Adams-Wendling, who chairs the Department of Nursing Education at Emporia State University. "From the minute of my first interaction with my first patient, I knew nursing would be my profession for life."
Her plan was to spend her professional career as a nurse, due in part to the influence of her mother and friends also entering the field, and at first Adams-Wendling did just that. But soon she also decided to keep moving along the academic route too. It started with her associate nursing degree from Des Moines Area Community College; then a bachelor's in nursing at Grandview College, also in Des Moines; a master's in nursing from Clarkson College, in Omaha; an MBA from Avila University; and finally her nursing doctorate from the University of Kansas.
Along that path, Adams-Wendling made it a priority to become a nurse educator. "I believed that to reach my career goal as a nurse educator, I should acquire as much experience as possible to share with nursing students," she remembered. Her enthusiasm for nurse education was influenced by the work ethic instilled by her parents—she was raised on a farm in Iowa—by a mentor she had early in her education, and by Florence Nightingale, considered by many to be the patron-saint of nursing.
After her extensive schooling, Adams-Wendling was recruited as a nurse executive about 30 years ago at a hospital in Emporia, where she met her husband Joseph Wendling. The two have made their home in Olpe, Kan., now for decades. She came on board at Emporia State in 2000, which then officially solidified her status as a nurse educator in academia. "I remember when I received the call for the interview at Emporia State University," she said. "I was so excited when offered the position I could not wait for the opportunity to begin my career as a nurse educator."
Adams-Wending worked her way up through the ranks, from assistant professor, to associate professor, and now professor and chair of the department, a title she has held now for 10 years. "Many ask me when I might retire and my response is, this does not seem like work to me because I so enjoy what I do," she said. "Each day I am inspired by the students I interact with, the incredible faculty that I teach with and the positive environment of the university."
---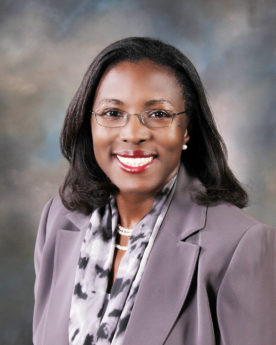 TIFFANY ANDERSON
Topeka School District
Tiffany Anderson, the superintendent of the Topeka school district, is no stranger to traveling for work. She lives in Overland Park, making her daily drive to work about 65 miles. Each way.
Believe it or not, that's an improvement from one of her previous positions, as superintendent of the school district in Jennings, Mo., outside of St. Louis, back in 2016. That gig made her daily trek then about 250 miles.
But Anderson, who is obviously no stranger to workplace dedication when it comes to showing up, didn't just switch jobs for a shorter commute time. She says going to Topeka provided a higher symbolic calling.
First of all, she is the first African-American woman to hold the top leadership role for the city's K-12 public schools. That is particularly significant to Anderson because the district was the genesis of Brown v. Board of Education of Topeka, in 1954, when the U.S. Supreme Court deemed racial segregation of students in schools unconstitutional.
"I wouldn't have left St. Louis for anywhere else," she said. An additional influencer on that front was an inspirational speech given by former First Lady Michelle Obama on the 60th anniversary of Brown, which gave Anderson extra inspiration.
Additionally, the Topeka superintendent is passionate about fighting poverty. She has faced struggles with the epidemic nearly everywhere she's worked—in Jennings, Topeka, and in 2012, when she was superintendent of University Academy in Kansas City, which prepares students, many of them residing in urban areas, for college.
"We have opportunities to not let the challenges get in our way," Anderson said. She has several stories about how she has helped students in need, but two particularly stick out. In Jennings, she noticed a gifted choir singer not taking part in a performance. After inquiring about his situation, she found that the child was homeless. Anderson was able to secure him an adoptive family, and he graduated on time and is now a U.S. Marine. He was one of the inspirations behind Hope House, a foster-care facility for homeless students that Anderson helped found along with other organizations in Jennings in 2016.
Anderson is now trying to do the same type of work to help disadvantaged students in Topeka. There's a student in her current district who was homeless throughout high school. When he graduates from college next year, Anderson has promised him a job as a teacher at his former Topeka high school. "When students graduate," she says, "I'd like them to have hope for the future."
---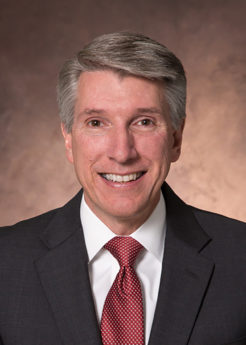 ROGER BEST
University of Central Missouri
As a first-generation college student in his family, Roger Best has by all accounts exceeded the expectations normally associated with one in that position. Instead of just graduating from college, an admirable accomplishment in itself, he now leads one. Best is the president of the University of Central Missouri, a position he has held since November 2018.
His road to Warrensburg came by way of Georgia and Florida. Best grew up in a town called McRae, Ga., in the south-central part of the state, then went to Georgia College in Milledgeville. After that he landed at Florida State University, where he was working on a Ph.D. in finance, when he got his first position at what was then Central Missouri State University in 1995.
"Until seeing the faculty position posted, I had never heard of Warrensburg, and until my initial interview for the faculty position, I had never even traveled to Missouri," Best recalled. Though he came to the university specializing in financial education, Best was not always focused on the business side of academia, a switch that took place early on. "I was fortunate to have many excellent teachers during my K-12 experience, thus it was natural for me to consider becoming a teacher," he remembered. "Early on, I enjoyed history, so my initial inclination was to major in history with secondary education certification."
He says he developed a fascination for business, during his teen years, and particularly "with the financial operations of businesses and (good and bad) decision-making within organizations." That obviously stuck, and after a few years in Warrensburg, Best eventually rose from assistant professor of finance upon his 1995 hiring to dean of the institution's Harmon College of Business and Professional Studies.
From there, in January 2018, he was promoted to executive vice president and chief operating officer before being elevated to his current role.
"In my current position, I have the opportunity to regularly engage with alumni," he said. "Over and over, they tell me about the difference UCM made for them. Through these conversations, I recognize that the college experience and education very much provided these individuals with pathways that were not accessible without a college degree."
What concerns Best in today's educational environment is a growing perception that earning a college degree isn't worth the expense in such a demanding job market, in which  companies are often willing to hire candidates straight out of high school. "I know from my own personal experience, and I see it every day in the work we do: Education is life-altering," he said. "When students come to us and work hard, we work equally hard to ensure they are successful."
---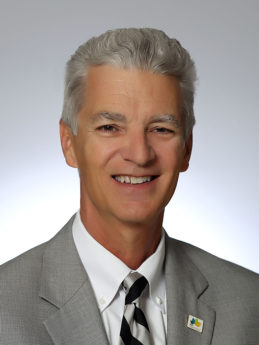 JOE SOPCHICH
Johnson County Community College
This summer, Joe Sopcich will retire as president of Johnson County Community College after leading the institution since 2013. But he's given much more to JCCC than his executive skills.
His exit will conclude nearly three decades of service there, covering a laundry list of administrative roles. Among them: executive director of institutional advancement, vice president of institutional advancement and government affairs, executive vice president of administrative services and executive vice president and chief financial officer.
Somehow, he also found time to teach in the Business Division of JCCC. And that makes sense. Sopcich started his career in Chicago with Leo Burnett Worldwide, one of the world's most recognized advertising firms for creating several global-product brand names. He worked for a while in the non-profit sector before joining JCCC. While working for the college, he has had just as many accomplishments as administrative titles, many of them far away from Johnson County. He won the coveted Fulbright Program award in 2011 and traveled through Russia, giving speeches on the merits of community college systems. In 2018, he went to Pakistan, again to promote the role of community colleges, funded by a grant from the U.S. State Department.
There, he gave the keynote address at an education conferenced, titled: "The U.S. Community College Model: Its Role in Workforce Development and Community Education." 
Back at home, Sopcich set up a 2017-2020 Strategic Plan for JCCC, which used a data-
driven model for the school's performance that controls its $150-million operating budget. It includes benchmarks of academic excellence, student success, employee and community engagement, and operational excellence.
He has overseen extensive upgrades to JCCC's facilities. In 2016, Sopcich and the school's board of trustees approved a plan to give JCCC a major facelift with its athletic facilities, its fine arts and design studios, and making sustainability improvements to its buildings, among other
renovations.
Sopcich started his academic training at the University of Notre Dame, where he earned a bachelor's degree in American Studies and an MBA. Following that, he went to the University of Kansas, where he completed his Ph.D. Sopcich is only the fifth president since JCCC was founded in 1969. Nearly 16,000 students were enrolled last spring, and it has close to 3,000 full- and part-time employees, including adjuncts.
---
DAVID DARWIN
University of Kansas
Without a doubt, David Darwin could have chosen a much more lucrative career than the one that has led him to chair the Department of Civil, Environmental and Architectural Engineering at the University of Kansas. After all, some of his students have gone on to have leadership roles at major corporations. But Darwin, a professor since 1974 and the Deane E. Ackers Distinguished Professor and Chair, wouldn't change a thing.
"The best job in the world is being a professor," he said. A Vietnam veteran who started his career in the U.S. Army Corps of Engineers, where he was an operations officer and unit commander, Darwin was also a senior concrete instructor at the U.S. Army Engineer School at Fort Belvoir, Va. From there, he made his way to the University of Illinois at Champaign-Urbana as a rese-arch assistant, where he also received his doctorate. But the transition from military to academic life wasn't as difficult as it might seem, Darwin says.  "The Army does a great job of teaching you how to teach," he said.
From Illinois, Darwin looked at several schools to become a full-time professor, but he and his family were especially taken with Lawrence. "I interviewed at a lot of places, but KU was my favorite," he recalled. Arriving there in 1974, Darwin became an assistant professor in civil engineering, a position he held for three years.
From there, he worked his way up to associate professor until 1982, then full professor and the director of the Structural Engineering and Materials Laboratory. Darwin earned his distinguished professorship title in 1990 and went on to become chair of the department in 2013 after applying for the position.
During this entire time, he and other KU faculty and students have been involved in the private sector, consulting on projects. He is proud of the work that he and the department have done for many reasons, including their efforts to assist the construction industry with advancements that help prevent corrosion of steel and concrete used in bridges in the Midwest, in addition to having an impact on building codes.
Their work is always changing. "Researchers are always looking to innovate," he said.
Darwin also admires all of those who have graduated during his tenure, including 34 Ph.D. and 97 master's graduates, many of whom are business leaders in their fields. "We're so proud of our graduates. They've done so well," he said. "Being a professor is the best job. It's a kind of immortality. What you do influences other people."
---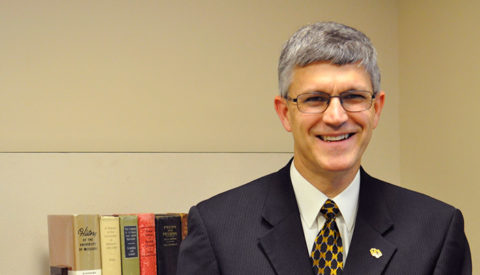 JIM SPAIN
University of Missouri
Jim Spain wears a lot of hats at the University of Missouri.

A faculty member at the school since 1990, he started as an assistant professor and state extension dairy scientist, putting him in the midst of Kansas City's Animal Health Corridor, which spans a 250-mile stretch from the Mizzou campus west to Kansas State University.
Today, he's vice provost for undergraduate studies and distance learning for the flagship among Missouri's four-campus university system.
The transition made sense, as he started his academic career as a graduate research assistant in dairy science at Virginia Polytechnic Institute and State University, better known as Virginia Tech. The animal-health field has been a significant focal point for Spain at Mizzou. He transitioned from assistant to associate professor in dairy science in 1996, and in 1999 became a full professor of animal science. His commitment to the field is significant. Spain has extensively researched the dairy-ag sector, with topics including: Interaction of Nutrients in Diet of Lactating Dairy Cattle, Effect of Nutrition and Environment on Animal Health, and Production and Interaction of Nutritional Status and Reproductive Performance.
Now, his work focuses on the student side. He became an assistant dean in the College of Agriculture, Food and Natural Resources in 1999. In 2007, he became vice provost for undergraduate studies. He added another title in 2011, as vice provost for eLearning—an increasingly important part of education, with remote classes becoming a priority in rural areas.
Under his watch are MU's career center, campus writing program, fellowship office, honors college, multicultural certificates, and several other responsibilities.
Besides his titles, Spain's award accolades are impressive as well. He won the Kemper Teaching Fellowship, in 2001, and the Excellence in Advising Award at Mizzou in 2000. A year later, Spain was presented the Governor's Award for Excellence in Teaching in Higher Education. And in 2007, he earned the Golden Apple Award for Excellence in Teaching.
Spain's education started in the South. He earned his bachelor's from North Carolina State in 1984. Then, he moved on to Virginia Tech, where he achieved an M.S. in dairy science and a Ph.D .in animal science. When MU named Spain to the provost office, Chancellor Alexander Cartwright said: "Dr. Spain displays a passion and dedication for Mizzou that is unmatched, and I am confident that he will serve the university well in this role."
"I love this place," Spain said at the time. "I love the people this place represents and have a deep feeling about this work. I am humbled and honored, but excited about the opportunity to contribute to the future success that I am sure Mizzou is going to enjoy."
---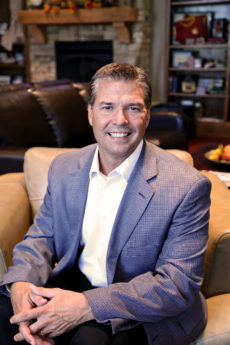 JON SPENCE
Evangel University
It would make sense that Jon Spence would end up at Evangel University. After all, his
father was president of the Springfield-based Christian university for 40 years until retiring in 2013. But that's not where he intended to end up initially. The director of the institution's Center for Student Success planned to, and did, move back to the South (his family is originally from Alabama) after graduating from Evangel in 1988.
"I wasn't interested in staying here," he said. "I was ready to move back to the South." And upon finishing his bachelor's degree, Spence did that, moving to the Atlanta area for three years, where he became a teacher and football coach. However, a call home brought him back to Springfield, and Spence became a coach and teacher.
That led him back full circle, back to Evangel, where he has been since 1998. As director of the Center for Student Success, Spence wears several hats. "I've been somewhat of a Swiss Army knife," he said of his career. In his current role, Spence's duties can be wide ranging, and his bio on the school's Web site sums that up, describing his duties as "helping students understand their identity in Christ while pursuing their vocational calling."
That also involves him being "an instructor in Leadership studies, a faculty advisor for the EU Scholars Honors program, an academic consultant for Evangel football, advisor to Social Science student teachers, and serv[ing] on various university committees." Spence doesn't see himself an administrator who merely comes up with plans and policies, but instead as someone who can help put those plans into action. "I'm more of a problem-solver," he said.
He credits that skill to having a strong work ethic, coupled with always being prepared for any challenges he might face.
"I could not control whether or not someone put me in the game, but I could control my hustle," he said. The road for Spence, for which he is grateful, having the opportunity to help what he estimates are hundreds of students from different backgrounds and in varying situations, has not always been easy. He recounts working for three years with a student who had been diagnosed with leukemia and was going through treatment during her Evangel studies.
Spence said her work ethic was incredible in spite of the severe health challenges she faced, to which she eventually succumbed in 2014. That, he says, was one of the toughest things he has had to overcome in his career. What kept him going, and keeps him going through other tough situations, Spence says, is his faith and the "power of belief."
"I can't imagine anyone trying to teach if they didn't have a prayer life," he said. "My world has been the students, and I ride shotgun."
---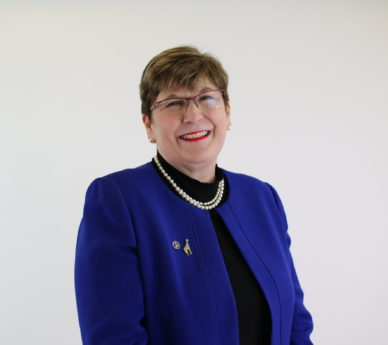 CONNIE WHITE
UMKC School of Dentistry
It's possible that Connie White might hold some sort of record for having the most unlikely beginning to a life-long career. The interim associate dean for clinical programs and assistant dean for community relations and communication at the University of Missouri–Kansas City School of Dentistry started her dental career at the age of 12.
Growing up in the small town of Perryville, Mo., near Cape Girardeau, White says she was bullied for having crooked teeth. But her family, like many in the poorest region of the state, wasn't able to afford braces for her. White's mother came up with a solution—her daughter would pay off the cost of her dental work by going to work for her local dentist.
"I cleaned his floors and got my braces for free," White remembers. "I worked for three years." However, that grunt work turned into an internship of sorts, and she worked with the dentist through high school, eventually becoming his dental assistant.
White graduated from UMKC with a bachelor's in chemistry in 1977, then received her DDS in 1981 and hasn't left the institution since.
"I came by it naturally because that's all I was exposed to as a kid," she said of her career choice. That default career path, though, has translated into a passion for dentistry, which she has now called her profession for about 40 years. "It's my dream job," she said.
During that time, White has concentrated on paying back to UMKC's students the mentorship and passion she received at an early age in the Perryville dental office.
And dentistry is a field that  requires passion, she says, because few patients are having their teeth examined for reasons that are positive. Much of the time, they are in extreme pain, though some are there for cosmetic reasons.
Though she says most patients see a dentist for the former reason, none of the work she and her students do is simple. "It's a job that requires perfection," she said. "You don't have a lot of room for error in the mouth."
There is also a psychological aspect to the job, dealing with patient stress and expectations that help mentally guide students. That's a character-building aspect: "It takes a lot of patience and a lot of hard work, and it's easy to feel like you're not measuring up," she said. "I try to mentor students that they can make a difference for their patients."
The UMKC School of Dentistry does that every day, seeing 65,000 patients a year at its community clinic, which offers discounted care to Kansas City residents. It's one of the many things about the organization in which White takes pride.
---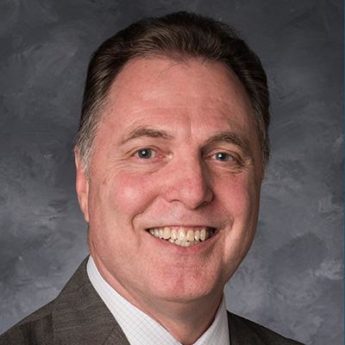 THAD WILSON
Research College of Nursing
Nursing was not Thad Wilson's first choice in education. During undergraduate studies at Graceland University, he was undecided on a major. The Washington State native went through the challenges of business, economics, education and math.
Nursing was his fifth choice, but it stuck. And today, he's president of  Research College of Nursing in Kansas City.
"I went to a presentation on international health care and watched nurses in action. I connected with the message and decided to give it a try. It felt right and I have never looked back," he recalls.
Wilson then went on to get a master's degree at the University of Utah and his doctorate at the University of Kansas. Besides the passion for nursing he discovered later in life, Wilson had a strong dedication to education. He credits his parents for instilling that pursuit. "My father was a seventh- and eighth-grade math teacher," Wilson said. "He loved education and it showed. My mom was lead dietitian for a school district. Between them, I learn-ed to love science, health, and education."
His Graceland experiences also brought him to the Kansas City area. Though the school is based in Iowa, its nursing and clinical courses are all in the metro region. Here, he met his wife and they decided to stay, making their home in Independence.
After attending KU, Wilson found  limited opportunities as a family nurse practitioner. He decided instead to teach and says he has no regrets. When it comes to the upside experiences of his profession, he says, "there are too many to count." But some of his most meaningful experiences as an educator/administrator have been abroad. "The experiences with students in Honduras are especially meaningful," Wilson said. "As the faculty sponsor for these annual service-learning adventures, it was always amazing to participate with students as they experienced a new culture and different health-care arena."
Looking forward, he is a bit skeptical of technology in the field and its potential to affect the human connections that define nursing. But he realizes its importance. "As technology becomes more and more a part of higher education and healthcare, I am hopeful that the
human aspect of both will grow in importance," Wilson said.
"Believe me, I don't want to go back to chalk boards. I have embraced and value what technology has brought to the classroom. However, the personal connection with another person is still a critical part of both education and health care."
---
SCHOEN KRUSE
Kansas City University of Medicine and Biosciences
Like many in the medical discipline of academia, Schoen Kruse didn't initially believe his path would be in teaching.
"I was always committed to the field of medicine, but thought I would practice as a physician," says Kruse, the associate dean for curriculum and integrated learning at the Kansas City University  of Medicine and Biosciences.
But Kruse, who is an Ohio native, followed his family's path—both of his parents and two of his four grandparents were educators. "Their careers as educators, along with some outstanding advice from my spouse, were very influential in my decision to pursue a career in academia," he recalls.
Kruse did his graduate training at the University of Colorado, following that up with a post-doctoral fellowship in Michigan. Then he came back to CU, where he took his first faculty position, which lasted for six years. He and his wife came to Kansas City in 2014 to be closer to family and raise their children after he was offered a job at KCU.
Following the influence from family to become an educator, Kruse has experienced the benefits of teaching first-hand, and that ties in with why he chose the medical profession in the first place, helping influence the next generation of patient care.
"I am driven to do what I do on a day-to-day basis when I think about the potential impact I can have on patient care," Kruse said. "For every student I help develop, with teamwork and support from colleagues, faculty, and staff, I am able to affect positive health outcomes in thousands of patients. When you scale up all of the students I have had the great opportunity to teach, mentor, support, and advise, the overall number of lives affected is almost unimaginable."
Besides his enthusiasm for helping others enter the medical field, and seeing their influence on patient care, Kruse has optimism for the profession in other areas.
Among them, advances in technology, which he says are transforming medical care in ways that are redefining the profession. Unlike previous years, when there was a concentration on how to make the right decisions, the correct choices can now be implemented much faster.
"Technology is allowing us to develop learning opportunities that were unimaginable years ago and will serve our learners well as they prepare for practice in today's healthcare," he says.  "Advances in technology will reshape the field of medicine, which will push educators to constantly be on the leading edge of education to  blend learning sciences, teaching pedagogy/andragogy, and technology to create a robust curriculum that trains our learners for clinical practice."