Take any business publication, read the profiles on almost every high-achieving entrepreneur, and note the constant elements of success: Vision and values. Drive and determination. Insight and innovation.
There's one more, says Peter Mallouk, the son of immigrants, president of Creative Planning wealth-advisory firm and Ingram's 40 Under Forty Alumnus of the Year for 2020. That other element is the Big Bang that must happen before the universe can expand with infinite opportunities: Pure, simple luck. If the right conditions don't exist to apply all of those skills and qualities, if the opportunity to succeed never even presents itself, can anyone ever succeed at a high level?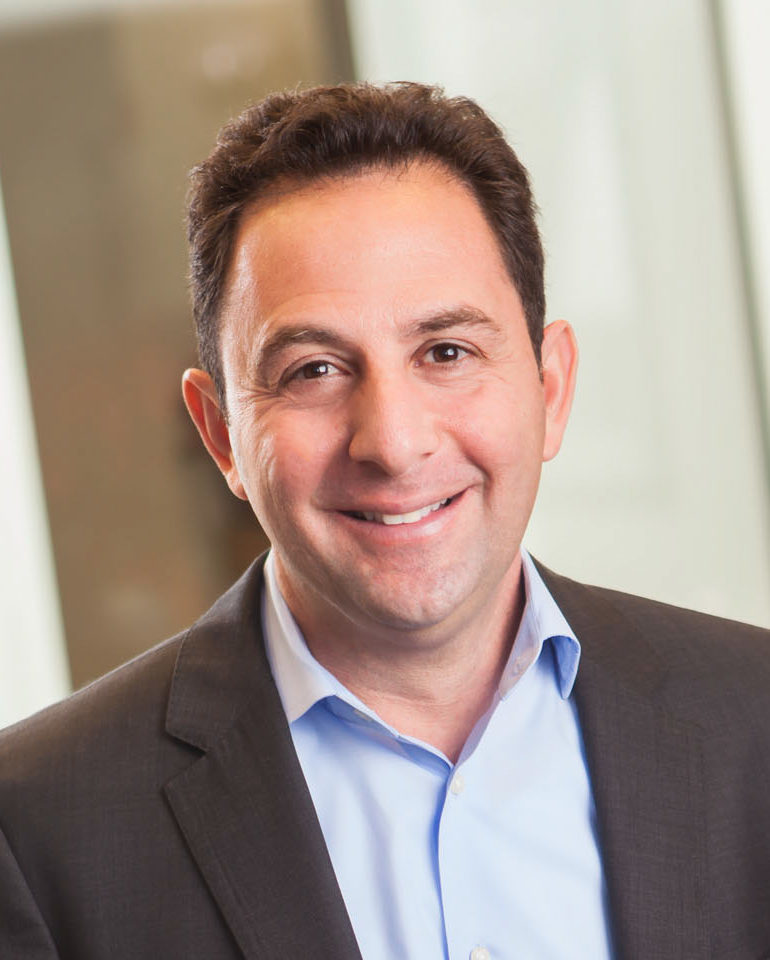 "One thing I have noticed with first- or second-generation Americans, is we all get how much of success is luck," says Mallouk, who, like his wife, Veronica, was raised by immigrants who staked their futures to the American Dream.
"We were both born in America to loving parents that had good jobs," Mallouk says "That automatically puts us in the top 1 percent in terms of the birth lottery. So much of life is what country you are born in, who your parents are, and ultimately even the ZIP code you are born in.  That's just easier to understand when you have something to compare America to."
The Hard Lessons of Innovation
Mallouk has done better than most could ever dream to leverage those benefits. Before he finished college, he had found some early success with his own lawn-mowing partnership as a teen, then as a records-store owner.
Industrial-size mowers rendered the hand-pushed variety nearly extinct with residential grass-cutting, and Napster did the same for records sales. So when he came out University of Kansas with degrees in business, including his MBA, and law, he also understood what it meant to create wealth and
the power of innovation to lose it.
After starting with a small financial-services firm in 1994, Mallouk was able to buy it and begin applying his vision of  a different type of wealth advisory, one focused on personally tailored investment strategies, rather than on maximizing corporate revenues with sales of proprietary products. From its inception with $150 million in assets under management, the firm stands on the threshold of $50 billion today.
At every step of the way, he has carried a value set shaped in large part by the examples of his parents, including his father, a multi-talented professional in various disciplines who is also a physician—and who, at age 85, is still on the staff at Saint Luke's Hospital.
"Growing up, my dad did all he could to learn about what he needed to do to navigate personal finance," the younger Mallouk says. "I watched him go from an accountant to a lawyer to a financial adviser to an insurance agent and really feel a burden trying to figure it all out."
But he learned something important in those early years: "Half the advisors are really selling something, and nearly all do their one thing but it was up to my dad to carry the baton from one to another. I really wanted to advise doctors on how to get through it all. I started working with them, and quickly found myself adding legal services for them, and by 2004 had it all put together in a way that made sense for any individual trying to create a clear path towards personal financial success.
Doing Good, Not Just Doing Well
That has given Mallouk the resources, personally and professionally, to change the face of Kansas City with the extensive philanthropy practiced at Creative Planning, and by the Mallouks themselves.
 "We want to do our part to ensure that those that didn't have a good start, or are going through a rough patch, can live with dignity, be supported, and have the resources they need to break the cycle of poverty," he says. "Most of our giving is tied to helping people get to the next level or at least live as good a life as possible while they try."
It has also given him the kinds of contacts and means to get the call—and act on it—when energy entrepreneur John Sherman reached out in the fall with a proposition: Would Mallouk be interested in joining a consortium of regional entrepreneurs and executives to buy the Kansas City Royals?
"Owning part of the Royals is like a dream," says Mallouk, whose first real job working for someone else was in the visitor's clubhouse at Kauffman Stadium. "I would shine shoes, organize lockers, put out food and beer for the players, wash their clothes, and run their errands. It was of course a dream job for a teenager."
The opportunity to participate in the ownership group, then, "was something I was not going to pass up," he says. "I love the team, and I absolutely love Kansas City.  This city has meant so much to me and my family—it is a really special place full of incredible people. Being part of the ownership group was a way to make sure a team I love always stays in the city we love the most.  And with someone like John Sherman at the help, it was a no-brainer. When he was walking me through the presentation, I just said 'you can go to the part where I sign up!'"