By some demographers' reckoning, the cohort of Americans between 20 and 29 years old is now almost evenly divided between Millennials and Generation Z. As the latter group continues to lay the cornerstones for careers, the late-stage Millennials are kicking things into high gear. Nowhere is that more evident than in this year's 20 in Their Twenties, where you'll find not just high achievers, but high achievers with a purpose. And no, that purpose isn't to make bank and head for the beach: These go-getters are focused on work that creates as much social value as economic value. Take a look …
Max Bartlett, LED Direct
He came out of west-central Kansas (Great Bend) and earned a criminology degree at K-State, so Max Bartlett knows what silos are—and he has no use for them in business or in his own career. Working for a car-rental agency after college taught him the importance of sales, effective management and quality customer service. So when LED Direct came calling "I realized that I could perform these in any industry, so I quickly jumped on it," the 29-year-old says. When he approached his boss there with an eye on starting his own company—knowing that he could risk more than simple rejection—his boldness was rewarded with a partnership at the fast-growing company, which specializes in all manner of highly efficient lighting solutions. "After a handful of 'failures,' my passion leads me to continue taking risks in order to grow," Bartlett says. "Risks create growth. Growth brings success."
---
Jasmine Baudler, Stellar Image Studios
"Entrepreneurship," says Jasmine Baudler, "is a way for me to make my own destiny and change the workplace of the future." Given that outlook, it's no surprise that this Omaha native, 29, has not only bootstrapped Stellar Image Studios without investors (in partnership with her sister, Amber), and turned it into an award-winning video-production company. It's a company with a mission: "I am determined to make the business community diverse and inclusive and am committed to doing so with my business," Baudler says, in part by recruiting women into the male-dominated film industry. "I rely on my non-profit background to make the biggest impact in the community, by promoting diversity and inclusion in all I do," she says. "I carefully follow the advice of my own mentor, retired executive Mike Kreiter, by paying it forward. I'm convinced that attitude and what you give reflects a successful entrepreneur."
---
Nicole Bentz, Flyover Capital
She grew up in a region known for entrepreneurship, so it didn't take Leawood native Nicole Bentz long to find her purpose in life: With her passion for business and technology, she says, "I knew I wanted to spend my career supporting entrepreneurs with a bold vision and an ability to forever impact our region for the better." That she does as a senior analyst for Flyover Capital, which partners with the next generation of technology success stories outside of the traditional tech hubs, she says. "Through our partnership and investment in 20 early-stage comp-anies, I help provide entrepreneurs the resources necessary to accelerate their long-term vision," says Bentz, 28. How? By "helping them prepare for future rounds of funding, finding connections to potential customers and partners, amplifying their message, and providing our assistance whenever else we can."
---
William Block, Block Real Estate Services
He has a third-generation pedigree in commercial real estate, but success wasn't gifted to William Block. During his high school days, he recalls, one summer might consist of ripping up old carpet and removing burn-ed insulation in the July heat; the next could be spent managing Excel documents and reports for a property-management team. "At every exposure I had to real estate throughout my adolescence, I dev-eloped a strong drive to build a career of my own," he says. The Pembroke Hill grad, now 25, left town for business school at Texas Christian University, but came home intent on extending the family legacy and earning his Certified Commercial Investment Management certification in less than a year. At BRES, he's been part of a team underwriting $1 billion in investment opportunities and $500 million in industrial, office and retail developments.
---
Justin Bogardus, Creative Planning
New York may be the epicenter of the world's fin-ancial markets, art and culture—and hometown for 27- year-old Justin Bogardus—but the Kansas City area affords him all he needs. For one, he can work with a high-profile national wealth-management firm; for another, he and his wife are closer to her roots in Clinton. Working on a team that manages $750 million in client assets, he says, "I do expect to be here long term," for both the professional and personal motives. After he diverged from a law-school path to private wealth management for a division of Goldman Sachs, the financial advisory bug bit. Success in his work, Bogardus says, means that he must "strive to treat each client as my own, and go above and beyond to ensure each step in our process is completed promptly and with the clients' best interests at heart."
---
Andrew Carter, Let It Fly Media
In his mid-20s, Andrew Carter had already realized a big life goal: He was the weekend sports anchor on a top TV station serving a market of 2 million people with a ravenous appetite for sports. But something was missing. "I followed that dream and lived it, but due to the changing landscape of digital media, I felt I needed to be part of the future and innovation," he says. He founded Let It Fly Media, and trust us: If you haven't seen its work (as with the Chiefs Super Bowl parade coverage), you're missing something out on what modern video production has to offer. "We traveled to 25 states for work in 2020," says Carter, 29. "Beyond the amazing mentality and teamwork of businesses in Kansas City that makes growth possible, the ability to be centrally located and get to either coast in a short flight is key for us."
---
Dane Hagen, Mike Hagen Electric
Most kids had Legos. Dane Hagen had the real thing. "I am the third generation in the construction field, so I grew up aro-und job sites," he says. "Some of my earliest memories were stepping over sheetrock and walking through mazes of framed 2×4 walls." As project manager for the firm his father started 40 years ago, he's hooked by what he calls "the intrigue of construction is that most days presents unique challenges; from supply-chain issues, local weather, global pandemics, you name it. There is never a dull moment." The fast-growth firm has also been able to reel in some high-profile work in the region. "It never gets old being able to share some of our previous projects with others as I drive throughout the city," says the 29-year-old. "Seeing the Kansas City Power & Light Building lit up on the Downtown skyline is always amazing."
---
George Hinde, DLA Companies
It's almost some-thing of a paradox: Business owners near the end of their working days, seeking the right price for their life's work, and putting their faith behind someone in the early stages of his own career. But don't let George Hinde's youth—he's just 27—detract from the clarity of his vision: "Selling a business is the most critical stage of its lifecycle if you want to maximize the return on your investment building it," Hinde says. "Having the opportunity to guide business owners as they prepare for a sale and direct their focus on what will drive value in the eyes of a buyer is tremendously exciting." With millions of dollars on the line in a transaction, he finds equal measures of excitement and fulfillment by "helping them successfully navigate such a major chapter of their life with confidence."
---
Emerson Hodes, Chief of Staff KC
Give Emerson Hodes full marks for candor: "I don't recruit and connect people to make money," he says. "I'd be doing something else if I really cared about chasing a paycheck." Instead, he finds fulfillment in his work with recruiting agency Chief of Staff KC "because I get to see the impact of my work on a daily basis by helping people find jobs and helping local KC businesses find the talent they need to grow and operate," says the firm's 26-year-old senior talent scout and marketing manager He also is founder of The Loop KC, an organization that helps young professionals find resources and connections vital to early-career success. "I'm a connector of people at heart," says the Rockhurst High and Vanderbilt University graduate, "and I'm very blessed to have found a career that allows me to do so inside and outside the office on a daily basis.
---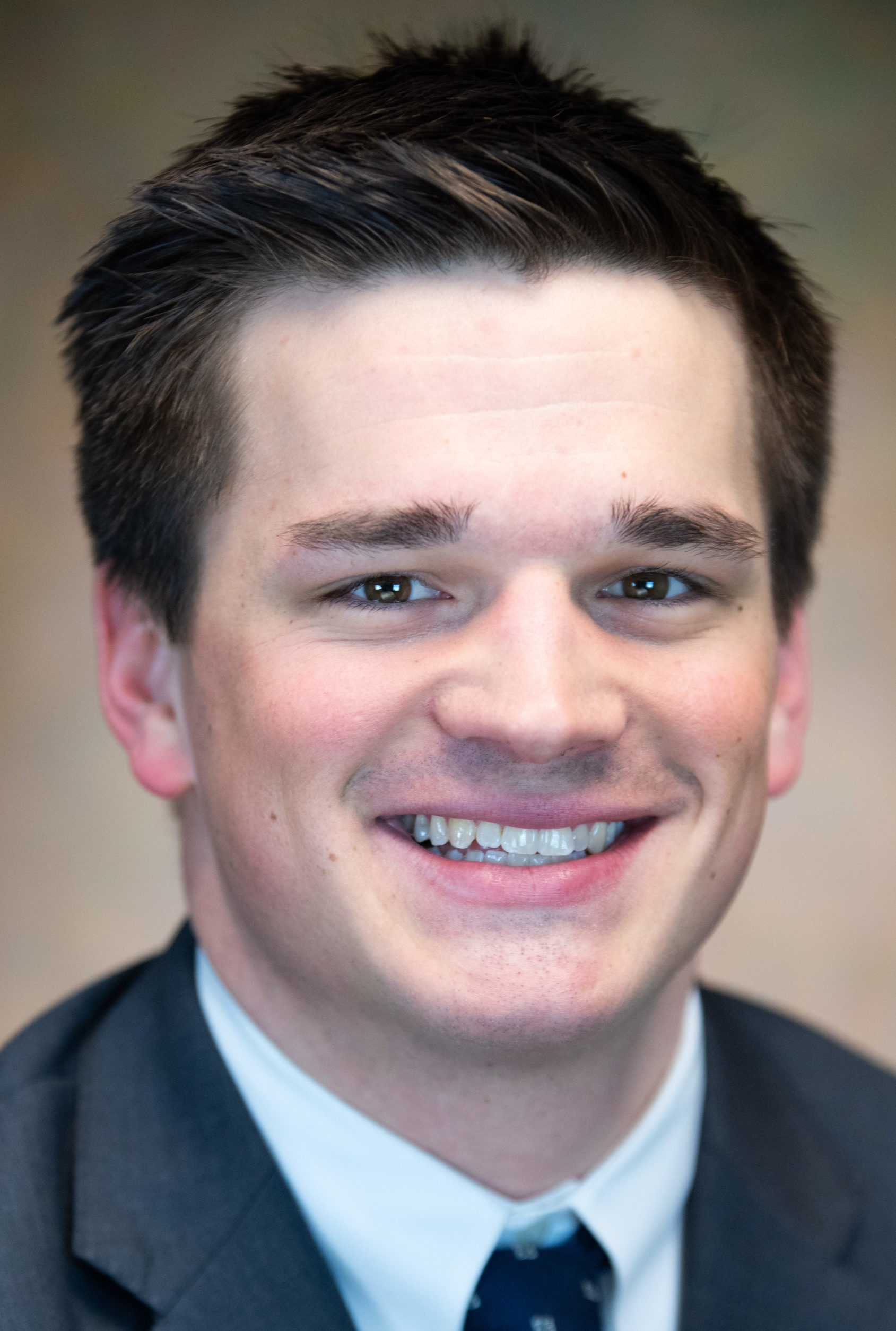 Kurt Jensen, Kessinger/Hunter & Co.
Like father, like son, eh? Young Kurt Jensen would make occasional visits to his father's commercial-real-ty workplace, selling Cub Scout popcorn to the staff or riding along to check out a development project. The significance of that work was not lost on him. "Commercial real estate is the greatest financial tool for creating generational wealth," says the 26-year-old brokerage associate for Kessinger/Hunter. But the work means more to him than being part of $100 million in real estate deals covering 3.5 million square feet of space. "I hope to make an impact that can remove invisible lines in our community that have been created due to the ugly history behind real estate in Kansas City," he says. "There are people and communities within the KC metro that are vastly underserved and seriously lacking the opportunities that many of us are fortunate to have."
---
Dwight Moore, Grant Thornton
Wichita-area native Dwight Moore once thought of Kansas City as a stepping stone out of the Midwest. Funny how this place sticks when you take that step. Marriage and travel—the opportunity to see what other cities had to offer—showed him that this place was "more like home instead of a way out." As a manager for accounting/consulting giant Grant Thornton, he has offered pricing guidance to save client companies millions of dollars, and he's been a regular speaker on the business conference circuit since he was 25. Now 29, he's testing his entrepreneurial skills, founding MooreandMooreco with his wife, Kelsey, creating original laser cut items and customized products. True to the Millennial spirit, their enterprise donates Web-site profits to local charities, and they've doubled up on that by donating time and service to those needing it because of the pandemic.
---
Mariah Jordan, Commerce Bank
At Commerce Bank, diversifying the work force is a daily goal for Mariah Jordan, a 29-year-old talent management consultant. "What excites me most about my career is the chance to foster equal representation of talent across the bank," says this Iowa native and one-time college sprinter. "I am passionate about helping others gain access to opportunities that allow them to grow with our organization both personally and professionally." Since joining Commerce, she helped establish new recruiting processes for college grads, worked to create tools to tracks departmental recruiting ini-tiatives, and closed 100 percent of open positions for 2019. "So many people don't realize the opportunities they can find here or how they might fit in," Jordan says. "By joining Commerce I saw an opportunity to help educate and open doors to these people."
---
Lee Mudd, RLM Underground
A blue-collar construction background and high-tech vision led Lee Mudd to launch RLM Underground in 2016. "I saw the investment value in a growing industry shifting toward telecommunications and data," he says. His own company would capitalize on the opportunity to grow with the increasing infrastructure and demand for fiber, especially in rural communities. The company has executed more than 30 contacts nationwide, and has already done $8 million worth of work this year in underground construction, aerial construction, engineering services and telecom installation. "I'm willing to take calculated risks to grow the business because I understand the industry and the direction it is going," says Mudd, 29. "With tough times comes innovation and there are so many variables that could go wrong. It makes it challenging, but I love a challenge."
---
Harrison Proffitt, Bungii
Biology. Business marketing. If you can't see how the two could lead to the founding of a rapid-growth ride-sharing company with a special niche, you don't see the world the way Harrison Proffitt does. "Initially, nothing about ride-sharing or the gig economy was overly intriguing to me," says the 28-year-old, Manhattan-born, Denver-bred K-State grad. "That being said, as we identified the root problems of local delivery, we realized the ride-sharing model had the potential to solve these issues at scale. There was a big demand and a lot of supply out there, we just needed to figure out how to properly connect the two." Bungii is like an Uber for trucks, with muscle thrown in. Proffitt co-founded it in 2015 in a college classroom, and today it has 30 employees, has raised $10 million in funding, and has served 100,000-plus customers. "And we're just getting started," he declares.
---
Taryn Nash, Lathrop GPM
For all the build-ings built, wealth managed, widgets made or clients served by people in her age cohort, Taryn Nash has on her resume a line you rarely see in a 28-year-old. In part because of her work with a legal team from the Midwest Innocence Project, a woman wrongly convicted of murder is free today after 26 years in prison. That's just one example of how she sees a commitment to serve meshing with the law. "I like being a part of and creating a space where lawyers have the resources, access, and community support to help Kansas Citians solve problems, think creatively, and grow," says the Lathrop GPM business-litigation associate and UMKC law grad. "I think this is even more important for our community's young lawyers, who, more than ever, are dedicated to giving back, breaking down boundaries, remedying injustices, and making Kansas City a better place for all."
---
Angela Orr, KC Area Development Council
We share this with you in the hopes that Tim Cowden, her boss at KCADC, won't act on it when raises are next due: Angela Orr insists that "truly—I would do this work for free" as the marketing director for Team KC and investor relations. "I fundamentally believe in what we do as an organization, and the ROI is pretty clear," says Orr, 29. "Each project win at KCADC directly correlates to job growth, capital investment and overall opportunity within the two-state reg-ion." That work, she says, "helps Kansas City grow from the inside out and from the outside in." A Jefferson City native, she moved here for the challenges, and found them. "Who even knew that 'place branding' was a thing when they were growing up?!" she says. "It isn't a career field that's directly spoken of, but in my mind, this is the work that keeps the wheels rolling."
---
Jake Pritchard, Grandbridge Real Estate Capital
If he's still on the pace of his first three years, Jake Pritchard is poised to join the billion-dollar club of transaction volume for Grandbridge: He's already been part of 60 transactions worth roughly $750 million in volume. "With each deal, I am proud to enhance the financial position of our clients," says Pritchard, 29. "It's exciting to witness the impact of our clients' actions, when thoughtfully executed, improve the experiences of the greater pop-ulation who interact with the real estate we finance." On top of that, he's an investor himself, owning and operating four rental properties. "My goal is to not only improve my financial security," he says, "but also provide exceptional housing to my tenants via superior customer ser-vice and safe, well-maintained real estate. … I hope to continue creating win-win solutions for the benefit of Kansas City in the years to come."
---
Kevin Puckett, Phame Influence/On the Top Search
His mom, aunt and brother were all trial lawyers, so Kevin Puckett followed their lead to law school. Then a thought hit him: "I knew that as the young-buck graduating law school and soon to be joining the family firm, I was going to be asked about what we should be doing with our Web site, digital marketing, SEO/SEM, etc." Thus, his interest in digital marketing—and he launched On the Top Search while still in law school. "Little did I know, I would not return with just knowing about these topics, but a desire to reinvent the industry," he says. The Cameron native was in start-up mode even in high school, founding a collection agency for law firms. His ventures since also include Phame, specializing in artist representation and music production. "My goal," he declares, "is to impact at least 100,00 people thro-ugh my corporations, influencers/artists we represent, and charity."
---
Michael Rockhold, Five Elms Capital
He's a Rockhurst High and Saint Louis University graduate, so you can bet Michael Rockhold has the Jesuit service model down pat. And when you think about service broadly, there's certainly room for helping build businesses that produce social and economic vibrancy. That he does in leading the capital markets unit for Five Elms Capital, a source of vital early-stage funding for promising companies. "I have always had interest in both company operations and investing, so the intersection of the two naturally was financial services," says Rockhold, 29. His capital-markets group formed a little more than a year ago, but already is engaged in dialogue with more than 500 organizations, he says, generating "relationships have resulted in additional financing opportunities for early-stage companies, leading to job creation and technological development."
---
Cody Wood, Dentons
Can one work for a global law firm and still demonstrate entrepreneurship? You bet. Case in point: Cody Wood. "Entrepreneurship within law is not so much about innovating new tech-nologies or practices that make the job easier," says the 29-year-old. "Instead, I'm concerned with finding new ways to think about complex problems that the job does not always provide an answer for." To that end, he uses "the legal tools available to resolve novel issues that arise at the intersection of international commerce, politics, and the law." Wood also understand risk/reward on a personal level. He turned down the opportunity to intern at prestigious law firms, opting to study trans-national law in Mongolia, and was published in that nation's leading law journal. "I can trace my current position as an associate at the world's largest law firm directly back to these choices," he says.
---