Most of us will agree that stereotypes can be dangerous. But there are some instances where stereotypes can prove quite useful, and the one that says women generally are more intuitive, introspective and sensitive than men is a good example—especially in business administration. You'll find those qualities, and others, in abundance with this year's members of Women Executives-Kansas City. This year, we showcase nine highly successful women who are flat-out getting it done in settings as varied as professional services, wealth management, construction, design, event planning, hospitality and philanthropy. Please join us in saluting them for their contributions to business growth in the Kansas City area—contributions that are anything but typical. Or stereotypical.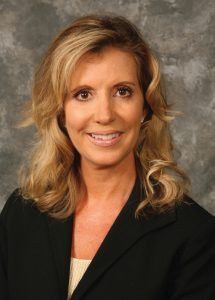 Denise Bade    LOCKTON COMPANIES
    Denise Bade is rightfully proud to have become the first woman to serve on the executive committee at Lockton Companies, and among the first from its global work force to become executive vice president. This, at a company with 6,000 employees, 80 offices around the world and $1.35 billion in revenue. But stop for a moment and consider the path to that success: When she started there in 1994, it had $59 million in revenues, and "I sat in a corner cubical in a small boxed-in area fondly referred to as the 'producer bullpen' with five other new producers," she recalls. "Our big 'indulgence' was a Culligan water cooler we all went in on together." Goodness, how things have changed. Tracking with her rise through the ranks, she entered the realm of motherhood and had three children. Her professional success allowed a luxury not available to most working mothers: "I've been lucky to have a selfless husband who eventually gave up his career to be a stay-at-home dad when our home life became too difficult to manage, so I won't claim to have the same challenges other working moms have today," she says. "However, having babies at home and balancing a demanding career was extremely hard for me, emotionally and physically." Making it all worthwhile wasn't just the company she worked for, but the company she kept while doing it. "When I interviewed at Lockton, I was amazed at the talent and professionalism of this mid-sized, family-owned brokerage," Bade says. "During that first year at Lockton, I felt like everyone I met was so savvy; with stronger business acumen, better presentation skills, and more interesting life experiences than me. It was overwhelming." That sense, however, soon gave way to her work ethic. The countless hours on the road were tough, she says, "but, I really believed in the Lockton family, associates, and the value proposition we offer our clients. …Seeing our associates develop and work diligently to live up to our motto of 'We Live Service' was—and is—always humbling for me."
Pamela Breuckmann    FERRELL CAPITAL / SAMSON CAPITAL MANAGEMENT
    Some women reach the pinnacle of business leadership and find their hands are full with that job. Then there are the Pamela Breuckmanns of the world, who relish the task so much they hold down two executive slots. She's the president and CEO of Ferrell Capital, a privately held holding company, and at the same time, she's president and COO for Samson Capital Management. It's not like they're identical models: The Ferrell side involves private investments and diversified asset management, but her successes there prompted suggestions that a similar mechanism be created for high-net-worth outside investors and institutions. Thus was born Samson. So how does she do it? "You kind of have to strategically think about what's happening in one business vs. the other, allocating time for both, working with staff on both. It's just a balancing act." It helps, she said, to have multitasking built into your DNA. "I operate best under a tight schedule," she says. "The more I have going on, the more productive I am. That's how I'm wired, frankly." She has plenty on her plate as a single mother of boys ages 5 and 8, so she gets to balance family issues with that work mix. A native of Smith Center, Kan., Breuckmann was exposed to entrepreneurship at an early age. "Mom and Dad owned their own real estate business, as brokers and agents, and Dad was an auctioneer, too, so there wasn't a lot of separation between life and work, family and work—it was our life as we knew it," she says. She carried those values to Lawrence, earning undergraduate degrees in accounting and business administration from KU, then stuck around to pick up a master's in accounting and information systems before earning her CPA. She started at Deloitte & Touche, then moved on to Kansas City Life Insurance Co. and a specialty finance company before Ferrell came calling. A comparatively rapid rise through the ranks, she said, can happen when you're "keeping your head down and doing the next right thing." But she also credits what she calls "a few really amazing mentors along the way, who provided additional confidence that you are doing the right thing." In the end, she advises: "Just keep working hard."
Kathleen Fisher    GRAVES GARRETT
    The term "working mother" can be a harshly redundant construct—employed or not, how many mothers don't work? And given the diversity of working mothers, their roles in the workplace and even the ages of their children, the balancing act changes as the needs of their families do, too. None of which is particularly insightful to one Kathleen Fisher, a partner with the Graves Garrett law firm. She's most recently been on maternity leave, adding to the 6-year-old and 3-year-old who keep her life … interesting. "Early parenthood can be physically demanding between sleepless nights and nursing, but in other ways, more flexible because young children don't have a set school schedule and fewer extracurricular activities," Fisher says. "But in general, I think every year brings its own demands, and balancing home and work commitments is a challenge for every family, especially with two parents working outside the home." For that reason, she says, "I'm very grateful that I have a supportive husband and family nearby that help make that balance possible." Fisher's practice concentration is on complex government investigations, including healthcare fraud and civil and criminal tax matters. But in a comparatively small firm, there are lots of hats to wear, so she also handles civil and criminal forfeitures, cases involving violations of FDIC, SEC and EPA regulations, and cases of fraud and false claims. Bank on this: When the leave is over, her in-box will be teeming with things to do. Which is fine by this native of St. Joseph, whose analytical side drew her away from a career in medicine. "After three semesters (at MU), I decided that medicine was not the right career for me," she says. "Finance was largely a practical choice for an undergraduate degree, knowing that I planned to go on to law school. I had always enjoyed logic and analytical thinking and the law seemed like an area where I could put those skills to use." That she's done: "Most of our cases are complex, and I enjoy the challenge of learning a client's case in depth to discover the best arguments and facts to support a successful defense strategy," she says.
Courtney Kounkel    CENTRIC PROJECTS
    Not long ago, at a gathering of construction executives, Courtney Kounkel offered insightful perspective on the application of LEED design standards, which emerged as a sustainable design movement in 1993—six years before her own career began. She'd never worked in a construction sector that didn't have to account for LEED. In some ways, her views of working as a woman in a male-dominated industry are equally insightful. "I've never been bothered by the good ol' boys club," says the co-founder of Centric Projects. "Quite honestly, I've never done anything different or really seen myself as different in this industry. I've always been comfortable in my skin as a woman running a construction company, and I believe that confidence and determination has earned me the position I'm in today." And it's a good time to be in that position if you're a woman, she says. "We are definitely seeing more women in the construction industry, especially locally. And that naturally translates to more women in leadership positions, albeit still not as many as men." There are reasons for that. For one, she says, "I really just don't think there are as many women interested in the industry. But, we are beginning to see many more strong female leaders like Rosie Privitera Biondo and Beth Soukup in construction company C-suites." Kounkel herself isn't the same executive today that she was in 2011. "As our team has grown over the years, I'm now less focused on managing the day-to-day work and more concentrated on running the company,"she says. She still manages the operations team, "but I'm more focused on strategic initiatives and looking forward so that we not only sustain, but continue to grow." A working mother of three—ages 8, 9 and 11—she also recognizes another social shift that has contributed to the success of female executives. "I really believe that full-time working moms and dads are the same," Kounkel said. "They have to equally share the parenting role in order for it to work, which is really different than when I grew up. My husband and I really do share parenting equally, which is what makes it feasible for us. We have definitely transitioned from changing diapers to chauffeuring. My kids are very independent now. They don't necessarily require a lot less from me, just a different kind of support."
Gail Lozoff    SPIN! NEOPOLITAN PIZZA
    Entrepreneurship runs deep in Gail Lozoff's blood lines, back to her grandfather's bakery, where she racked up a penny for each cake box she folded, starting at the ripe old age of 5. Since 2005, she's been a partner in SPIN!, with a dozen units in four states. The years in between have given her keen insights into what makes companies work and how marketing fits into that. She also learned powerful lessons from those that don't work, including her own partnership in a venture to sell specialty buttons for clothing. Still, it provided a valuable perspective: "It does force you to grow and to see all sides of a situation; it teaches you to be more analytical—it taught me to be," she says. "I think it taught me to be judicious about my thought processes. It also gives you tough skin."A Kansas City native who earned a degree in English at Beaver College, then a fine arts degree from Kansas City Art Institute, she honed her messaging skills with her marketing agency for a decade before diving into her first commercial success, Bagel & Bagel. "It was serendipitous," she says. "I was working a gig as an entrepreneur, and never really thought of going into the restaurant business. It just sort of presented itself, and from my work in marketing, I was able to transfer my love of brands to developing Bagel & Bagel." That concept truly found a hole in the market here, and took off. After selling to Boston Market and helping morph the company into Einstein Bros., she joined Houlihan's Restaurants at a time when that organization was struggling. Again, valuable perspective. "One thing you really learn is that when it's going great, it doesn't mean you should be satisfied," Lozoff says. "There's always a competitor, there are always market trends and economic trends that can affect you." Unlike the bagel world, pizza joints abounded when SPIN! launched. Yet, "it wasn't so competitive when we started," she recalls, because no one was offering precisely what she was. "Since then, it's become very competitive. We were the first to do a thin-crust Neapolitan style that was more artisan-focused," Lozoff says. "We had a feeling that there was an opportunity."
ERIN SCHNEIDER-STUCKEY    BLUE CROSS BLUE SHIELD OF KANSAS CITY
    It's possible that no profession in America today might benefit more from an infusion of educators: U.S. health care is in a huge state of flux, and those who work in that sector say educating the public on the true costs of health-care insurance is an enormous challenge. Erin Schneider–Stucky, then, is well-positioned for the task. "Although I've never worked in the classroom, I use my education degree every day helping people understand the complexities of the insurance industry," says the newly-promoted executive vice president for market innovation and business development at Blue KC. "Whether I'm speaking with other business leaders at community events or parents at my children's sporting events, they often have questions about how insurance works. Having a background in education gave me the tools to take a complicated topic and break it down in ways it can be easily understood." A working mother of four, she's leading a team that includes sales and marketing, integrated health services, market innovations, and payment innovations.  She's been with the region's largest insurer for 23 years, and is working at the center of a hurricane of change. "Change can be tough, but I try to view it as an opportunity and enjoy leading teams as they make the most of that opportunity," she says. "While our industry has undergone an unprecedented amount of change in the last few years, we've also seen increasing levels of innovation." It helps, she said, to be working with the right players.  "I strongly believe in surrounding myself with good people and empowering the BlueKC staff to lead," she says. "When you give your team the latitude to make good decisions, you'll get great results." She's a Kansas City native who embraces life here in all aspects—for the possibilities it presents with career, family and self-fulfillment. "I love coming to work and knowing that what I do makes a difference in the day-to-day lives of so many Kansas Citians," she says. "At its core, health insurance is a business based on relationships. I enjoy cultivating and nurturing those relationships."
DENISE ST. OMER    GREATER KANSAS CITY COMMUNITY FOUNDATION
    A career as an executive in a philanthropic setting might not have been pre-ordained, but something about Denise St. Omer's upbringing in Columbia ties directly into her work today as vice president for grant-making and inclusion initiatives at the Greater Kansas City Community Foundation. Her immigrant parents, she said, came from poor families and made sacrifices to see her through college. She learned from that, and from a key piece of their guidance: "They made sure that we recognized that the opportunities available to us were not available to everyone," she says. "My parents often told us that you cannot just go through life taking, you must give more than you take." The foundation role, then, is a natural fit for someone who understands the differences between Have and Have-Not. But it wasn't a straight line to the foundation offices. First came a degree in communications and black studies at Mizzou, then a law degree there. "I was inspired to go to law school by the work of Morris Dees and the Southern Poverty Law Center," she says, and she spent the bulk of her 15 years in law in the public sector, much of it in the Jackson County prosecutor's office, where her duties included working with neighborhood residents to help address crime and safety issues. "I realized that the work I loved was working to improve the quality of life in my community," she says. She gave up a career in law and a chance meeting led to the foundation, where, she says, "the biggest challenge is also what makes my work rewarding and fun. Kansas City is an incredibly charitable city, and many of our donors want to tackle big, systemic issues like access to quality education." She's able to balance diverse viewpoints about how philanthropic concepts can be translated into philanthropic achievement. "People have strong opinions on what should be done and what strategies to employ," she says, and to help bridge those difference, she believes that non-profit leaders should have access to the same kinds of professional development and coaching that for-profit leaders do.
DONNA THOMASON    EPIC INNOVATIVE EVENTS
    If executive administration entails a certain element of theater, Donna Thomason surely came right out of central casting: The president and creative director of EPIC Innovative Events may have the corner-office-type job, but her heart will always be grounded in the stage. "I knew from the time I was young that I wanted to go into the theater," says Thomason, a native of Kennett who spent much of that youth in Kansas City. After graduating from the Barstow School, she headed to Connecticut College in New London, just five miles from a resource any aspiring actor would seek out: The Eugene O'Neill Institute. Thoughts of law school—about five minutes' worth, she says—quickly faded, thanks in part to the institute's reciprocity agreement with her college. From there on, it was a career with stops at local venues across the nation—back to Kansas City, off to New York, sampling opportunities on the West Coast. She worked on Broadway, had recurring roles in TV's "All My Children," and anchored much of her career in the role of Grace Farrell, a main character in "Annie." Thomason played that role for an astonishing 2,400 performances. "When people hum 'Tomorrow,' " she says dryly, "I still get a little crazy." She and her husband—who played Daddy Warbucks—moved back to Kansas City in the early 1990s, with thoughts of finding a new line of work. But she landed at Starlight Theater, helping create custom entertainment for corporate events or fund-raisers there. Before long, the operation was growing into its own successful line of business, and since a non-profit organization by definition can't turn a profit, Thomason was tapped to lead the spin-off unit. The focus today is less on entertainment, and more on creating memorable and effective venues for corporate meetings, non-profit events, and providing video services and creative development. It's a good fit, she says, because "good actors are entrepreneurs. We're constantly creating ourselves, and just like acting, this is about finding out what your passion is in life, and doing it."
LORI TOP   BURNS & MCDONNELL
    Traditional sibling rivalry had a particularly keen edge when Lori Top was a little girl. First, it was concentrated—just Lori and her brother. Second, well  . . . it was a brother. And he had a two-year head start on her. "Every single thing we did was a competition," she recalls. "We couldn't even get to the dinner table without 'I got there first!'" So when he went through high school and excelled at math and science, that became her personal bar. She was not, however prepared to follow him into physics and engineering. "I had a creative/artistic side I didn't want to leave behind," she says. For four years, she majored in architectural engineering, then realized her passion was on the design side. After completing her degree in architecture at KU, she was off to the Great Northwest, working as design manager for a company that helped make Seattle a big draw for young professionals. "Starbucks had a very focused development track," Top says. "They knew how to develop people to manage other people. I brought that with me to Burns & McDonnell (in 2008) as a piece of who I was at that point." Today, she's manager for the firm's commercial architecture group, twinning her design skills with engineering fundamentals. "Architects and engineers aren't typically the best people managers," she said. "They solve problems, but that doesn't always allow them to solve the human side very well." Her own success, she says, flows from developing a team by putting them in roles that best suit their skill sets and elevate their performance. "So as my career developed and I took more responsibility, my team did too," she says. There's a natural rhythm to that dynamic at an employee-owned firm of 5,300 people. "Nothing gives me satisfaction more than watching someone you've brought up early in their career and having them execute work on their own and having them do better than you could," Top says. "That's an amazing thing. After eight years, I've seen a lot of them eclipsing what they thought they could do because they were set up in the right roles."