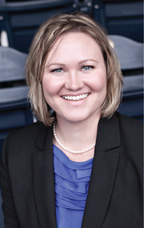 KELLY BOSAK
Staffing and employee development. Are there two functions more critical to long-term organizational success? In her role as director of employee development and staffing, Kelly Bosak oversees those vital operations for Ferrellgas Partners. At 34, she's a 10-year veteran of the Overland Park-based company, where her solutions-oriented approach has had a bottom-line impact. She helped recover potential revenue losses involving 1.3 million gallons of propane with her work on a Gain-Loss Oversight Committee, identified lost revenue in the billing cycle and assisted with the development and implementation of a document management system, earning a Best Practice Award from the Kansas City American Society for Training and Development. She was also awarded the Ferrellgas Humanitarian Award for her efforts, along with her husband, to save the life of an 11-year-old boy severely injured in a small plane crash they witnessed while on vacation.
The values of hard work, high goals and never giving up were instilled early, she says, and she applies them as well in efforts to give back to the community. Every year, she and her family members make a quilt to be raffled off in support of the ALS association, which searches for treatments and a cure for Lou Gehrig's Disease, a cause that became close to her heart after several family members were diagnosed with the disease. Her involvement with that effort, she says, taught her the importance of persistence.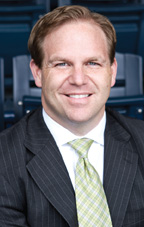 JEFF CARSON
You can hear the conviction in Jeff Carson's voice when he says that "it's no secret the happiest people, and most successful bankers, have the strongest relationships." He has put strengthening existing relationships into his job description as senior vice president at INTRUST Bank. Strengthening relationships, he says, helps develop the Wichita-based bank's presence in the Kansas City region. He joined Intrust in the fall of 2009, after a two-year stint at Carson Bank, where he was senior vice president and marketing manager.
Before that, he was senior vice president for commercial banking at UMB Bank. Carson, 35, is accountable for the bank's portfolio, attracting new clients and ensuring that growth initiatives are in line with public relations and marketing strategies. He also contributes to strategic planning, customer-generation tactics and other initiatives. With $3.8 billion in assets and more than 50 banking centers in the region, officials at INTRUST are grateful to have on board this fourth-generation banker who understands the industry so well.
Carson's civic involvement is just as impressive. He is an alumnus of the Centurions Leadership Program, has served as a board member for Ban Johnson Baseball, and is a past president of both the Kansas City Club and the 1212 Club. He's now involved with the Children's Therapeutic Learning Center's major fundraiser, the Groundhog Run. His wife, Jennifer, and their daughter top his list of accomplishments.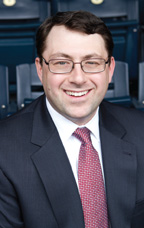 BRIAN CLARK
After spending almost 13 years with Deloitte & Touche, Brian Clark attributes his success to having a great company to work for, supportive family and friends, great clients and some good, old-fashioned luck. Clark has established a long list of professional achievements that ultimately led up to him becoming a partner of one of the largest accounting firms in the area, and nation.
Most recently, he has led Deloitte's Enterprise Risk Services practice, which focuses on global internal audit engagements. "One of the most important things I've learned is to put your client's interests ahead of your own," said Clark, 36. "If you can do this effectively, you'll have the best long-term relationships, which aren't based on a business transaction, but mutual trust and respect."
According to Jeff Provost, Deloitte's office managing partner, Clark does just that, both in the work place and in the community. Clark serves as board president of Head Start, an organization dedicated to helping young children and low-income families, which he says has been most rewarding: "I get experience that I wouldn't be able to get in any other workplace; it's really exciting to see the impact we have on the families and children." He believes his accomplishments outside of work would not be possible without the support of his partners, who "reinforce [his] values through their support and encouragement. People really are standing behind you when things get difficult."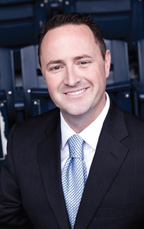 GREG COTTON
When you know the law and you love sports, your little slice of heaven on earth can be a job in the big leagues. So it is for Sporting Kansas City's Greg Cotton, 39, chief operating officer and general counsel for the pro soccer team. His duties include managing not just LiveStrong Sporting Park, but the Kansas City Soccer Foundation, Sporting Innovations, Blue Roof Entertainment and the Sporting Juniors youth development program.
As a counselor and legal guide for Sporting KC's executives and associates, he negotiates all major contacts, is involved in all major player-related transactions and handles the company's legal matters. Cotton has played a key role in the growth and innovation of the company—and the sport. He created and now manages the Sporting Club Network, a group of more than 55,000 amateur athletes affiliated with Sporting KC. Through his work, LiveStrong has hosted the Gold Cup, U.S. Women's National Team, Chivas Guadalajara and Newcastle United. He's also responsible for hiring the team's first director-level Latino relations associate, which was also a first in Major League Soccer.
A Kansas City native, he's also committed to civic life, serving on the board for Providence Saint John Medical Center Foundation, the International Visitors Council of Greater Kansas City and the Kansas City Kansas Chamber of Commerce, and he teaches sports law classes at UMKC's School of Law as an adjunct professor.