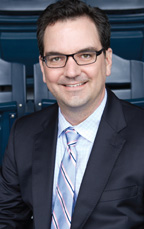 JOHN CROSSLEY
How many of us can, without exaggerating, say that our life's work has helped make a billion-dollar impact on the community? John Crossley can. A partner at the law firm of Husch Blackwell, he's been involved in the legal nuance of megadeals around the Kansas City area for years: the rebirth of the President Hotel, new headquarters buildings for H&R Block and J.E. Dunn Construction, projects for Cerner Corp., Black & Veatch and Quintiles—if it still glitters, there's a chance Crossley's fingerprints are on it somewhere.
His main area of concentration for Husch Blackwell involves such developmental boilerplate as zoning, public financing, economic development and incentives, but he also specializes in energy and its financing—particularly with renewables such as wind.
Kansas City's storied ability to get its hooks into visitors and turn them into residents was at work with a young John Crossley in 1998, before he headed into his final year of law school at Washington University in St. Louis. "I spent a summer in Kansas City and quickly became enamored with all that the city has to offer, and decided to make my home here," he remembers.
His community service has focused on fund-raising for organizations that assist children with congenital heart defects, and he's been a board member for Brush Creek Community Partners. The 39-year-old and his wife, Christy, have two children, twins Abby and Charlie.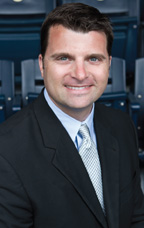 CHANDLER CULLOR
He was all of 26 when he first knocked on the door at Cretcher Heartland, an insurance, risk management and employee benefits agency now based in Overland Park. That door opened just enough for Chandler Cullor to kick it in. He teamed up with Steve Nicholson, himself a 40 Under Forty honoree [2008], to form the company's leading sales production team, mastering the nuance of construction insurance and surety bonds.
Nicholson went on to become CEO; Cullor advanced to the rank of president in 2010, largely on the strength of five straight years of record-breaking increases in business. Over the past two years alone, new business sales are up 53 percent, thanks in large part to Cullor's driving leadership style and emphasis on mentoring young professionals.
Something else he brought to the organization: Vision. Construction-oriented at its inception, the company needed to diversify, and Cullor aggressively pushed new insurance lines for clients in distribution, foods service, health care and trucking, and started a 401(k) division. Without those, given the construction downturn since 2009, "we'd be in the same boat a lot of our competition is in right now," Cullor says. Now, 38, he has established his credentials within the construction sector with various roles in state and national trade associations, and he coaches and volunteers at St. Thomas More Catholic Church, near where he lives with his wife, Cara, and their three children in Leawood.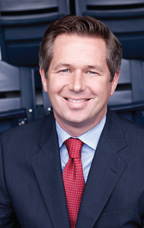 TIMOTHY DANKER
Growing a sales and marketing firm from a card table with one intern into an organization with 40 sales associates is no easy task, but Timothy Danker, co-founder and CEO of Spring Venture Group, achieved that in just five years. He says he's living his dream "of being an entrepreneur and building a great company culture where each associate's unique thoughts and contributions are valued." That company culture is a direct result of Danker's leadership and exceptional work ethic. Danker has implemented programs to promote healthy lifestyles and reward associates for healthy behaviors, and has organized and led company efforts with Christmas in October for the past four years, rehabilitating and rebuilding houses of low-income homeowners, to promote community involvement.
As the company continues to realize multi-million-dollar revenue growth, Danker says he has a great opportunity to hire the best and brightest. He's proud of his ability to lead the organization through proof-of-concept, capital raising and undertaking significantly complex and revenue-yielding business plans. On average, his business plans save consumers more than $700 per year on their insurance payments. Danker, 39, is also an usher captain at St. Andrew's Episcopal Church. In 2011, he was a Jailbird for the "Light Up the House/Jail & Bail" event, which raised over $44,000 for the Ronald McDonald House Charities.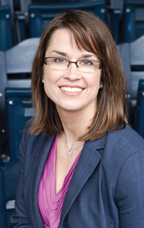 HEATHER COUNTS GARRETT
Life, notes Heather Counts Garrett, is notorious for delivering both the unexpected and the inevitable. She helps clients of her law firm deal with both variables by applying her skills in estate-planning matters. "Estate planning is truly a gift that my clients give to their families," Garrett says. "I cherish my role as their trusted adviser." The 38-year-old opened her own law firm in 2009, and says "I find a deep satisfaction in owning my own business" after years of working for firms both large and small, and in the non-profit sector. Working with individuals to benefit their families is one source of fulfillment and the role she plays with corporate and non-profit clients brings additional satisfaction.
Garrett has a lengthy history of community service, including her four years as adjunct professor at the University of Missouri–Kansas City's School of Law, where she teaches estate planning for retirement benefits. She also has served on various committees for the Women's Foundation of Kansas City, with the Volunteer Attorney Project for Legal Aid of Western Missouri, and the planned giving committees for Ronald McDonald House and Children's Mercy Hospital. "I was raised to give back and care about others," Garrett says. "I enjoy giving of my time through teaching, professional boards and speaking engagements, as well as to the community through volunteering with various organizations."
She and husband David live in Kansas City.