Best of Business Kansas City 2015 • All That Glitters…
---
---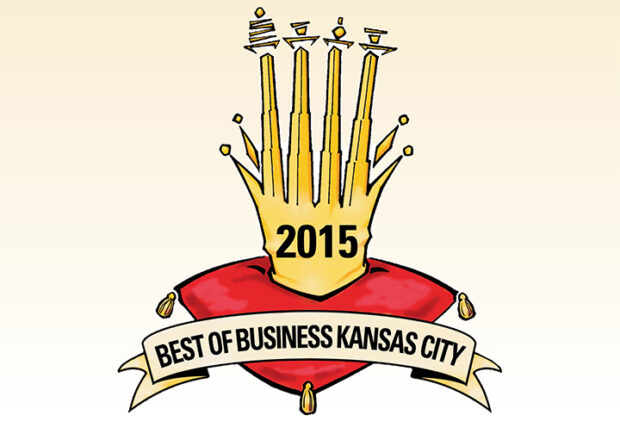 ---
…can indeed be Gold. But what does it take to be a repeat winner, year after year, in Ingram's Best of Business Kansas City awards? For starters, excellence.
Approximately 1,000 companies have been recognized with a Best of Business Kansas City award since we started doling them out in 1989. But only a comparative few have managed to pull off gold-medal consideration from our readers at least eight times.
Think about that: It means that even though they may rate among the very best at what they do, the vast majority of organizations have attained gold only once every three or four years, at best. That may say something about changes in reader tastes—they, after all, determine the winners with their ballots—but it also says something about the fiercely competitive nature of business itself in this region.
Companies that are in it for the long haul have shown that they can lay a foundation with core products or services that appeal to a broad range of consumers, then update around those product pillars with new concepts, innovation and a consistency of excellence that keeps people coming in the doors, and keeps readers scribbling those names onto the Best of Business Kansas City ballots.
The list of golden eight-timers and higher welcomes a few new players this year, and at the top, the all-time No. 1—The Capital Grille—puts some distance between itself and the rest of the field with five more golds this year. What's it going to take for everyone else to catch up? In a word: Excellence.
We salute all who embrace it.
---
 Category Leader                                                           ALL GOLDS
The Capital Grille . . . . . . . . . . . . . . . . . . . . . . . . . . . . . . . . 50
Plaza III-The Steakhouse . . . . . . . . . . . . . . . . . . . . . . . . . .38
Fiorella's Jack Stack Barbecue . . . . . . . . . . . . . . . . . . . . . 37
Bristol Seafood Grill . . . . . . . . . . . . . . . . . . . . . . . . . . . . . .29
Nelson-Atkins Museum of Art . . . . . . . . . . . . . . . . . . . . . 24
Stroud's . . . . . . . . . . . . . . . . . . . . . . . . . . . . . . . . . . . . . . . . 24
The American Restaurant . . . . . . . . . . . . . . . . . . . . . . . . .23
First Watch . . . . . . . . . . . . . . . . . . . . . . . . . . . . . . . . . . . . . .22
Halls Kansas City . . . . . . . . . . . . . . . . . . . . . . . . . . . . . . . . 19
Starlight Theatre . . . . . . . . . . . . . . . . . . . . . . . . . . . . . . . . 18
The Classic Cup . . . . . . . . . . . . . . . . . . . . . . . . . . . . . . . . . .17
JE Dunn Construction . . . . . . . . . . . . . . . . . . . . . . . . . . . . 16
Garozzo's Ristorante . . . . . . . . . . . . . . . . . . . . . . . . . . . . . 15
JJ's . . . . . . . . . . . . . . . . . . . . . . . . . . . . . . . . . . . . . . . . . . . . . 15
InterContinental Hotel of Kansas City . . . . . . . . . . . . . . 14
Jazzoo . . . . . . . . . . . . . . . . . . . . . . . . . . . . . . . . . . . . . . . . . .14
Saint Luke's Hospital . . . . . . . . . . . . . . . . . . . . . . . . . . . . .14
Weston, Mo. . . . . . . . . . . . . . . . . . . . . . . . . . . . . . . . . . . . . 14
Ameristar Casino . . . . . . . . . . . . . . . . . . . . . . . . . . . . . . . .13
Burns & McDonnell . . . . . . . . . . . . . . . . . . . . . . . . . . . . . .13
Lon Lane's Inspired Occasions . . . . . . . . . . . . . . . . . . . . 13
McCormick & Schmick's Seafood & Steaks . . . . . . . . . .13
Nordstrom . . . . . . . . . . . . . . . . . . . . . . . . . . . . . . . . . . . . . 13
Tivol . . . . . . . . . . . . . . . . . . . . . . . . . . . . . . . . . . . . . . . . . . .13
Peppercorn Duck Club. . . . . . . . . . . . . . . . . . . . . . . . . . . 12
Bernstein-Rein . . . . . . . . . . . . . . . . . . . . . . . . . . . . . . . . . .11
bijin . . . . . . . . . . . . . . . . . . . . . . . . . . . . . . . . . . . . . . . . . . . 11
Country Club Plaza . . . . . . . . . . . . . . . . . . . . . . . . . . . . . . 11
Ida McBeth . . . . . . . . . . . . . . . . . . . . . . . . . . . . . . . . . . . . . 11
Aristocrat Motors . . . . . . . . . . . . . . . . . . . . . . . . . . . . . . . 10
Hallmark Cards . . . . . . . . . . . . . . . . . . . . . . . . . . . . . . . . . 10
HNTB . . . . . . . . . . . . . . . . . . . . . . . . . . . . . . . . . . . . . . . . . .10
Overland Park Convention Center . . . . . . . . . . . . . . . . .10
UMB Bank . . . . . . . . . . . . . . . . . . . . . . . . . . . . . . . . . . . . . .10
Gomer's . . . . . . . . . . . . . . . . . . . . . . . . . . . . . . . . . . . . . . . . 9
Grand Street Café . . . . . . . . . . . . . . . . . . . . . . . . . . . . . . . .9
Kansas City Zoo . . . . . . . . . . . . . . . . . . . . . . . . . . . . . . . . . .9
Overland Chauffeured Services . . . . . . . . . . . . . . . . . . . .9
Trozzolo Communications Group . . . . . . . . . . . . . . . . . . 9
24-Hour Fitness . . . . . . . . . . . . . . . . . . . . . . . . . . . . . . . . . .8
AMC Theaters . . . . . . . . . . . . . . . . . . . . . . . . . . . . . . . . . . . 8
Arrowhead Stadium/KC Chiefs . . . . . . . . . . . . . . . . . . . . .8
---